Scroll down to the start of the month
Close this window to
return to Mike Rudd &
Bill Putt's home page

1) Max studies the BS EP 2) Max and the Spectrums pose on the Bishops' staircase
A big day for the chaps
30.6.08 - The last day of the financial year was a doozy. Robbo had to sort out a kilt for his foray to the Edinburgh Tattoo before we could leave for Wally Bishop's home where Max Merrit is staying. Max is staying with the Bishops while he's waiting to be inducted into the Aria Hall of Fame and help launch the

| | |
| --- | --- |
| 3) There's a hint of snow in the air as the lads take a breather | Concert For Max DVD. We're in transit to Canberra when all the this is happening, so we thought we'd better sort out a time to catch Max while we could. Max is looking as fit as ever (pics 1 & 2) and is in good spirits despite the restrictions on his lifestyle. On the way to the Secret Sound Studios for our penultimate rehearsal with Brod and Phil, (pic 3) Robbo and I stopped off at Aztec Music to say hi to Ted and replenish our supplies of Part One and Milesago for the trip north. I'm stuffed now.. |

1) Kenny Murdoch and the lads deliver some heavy bovver at the Corner
Taste delivers..
28.6.08 - I didn't really think I'd be free last night, but as it turned out we weren't working, so I decided I should go. I arrived at The Corner Hotel at the advertised starting time and caught a couple of numbers by a very fine but under-appreciated soul singer, Ness Jordan. I hung around expectantly for half an hour as the delinquents behind the mixing desk cranked up the music, but when The Beatles' Twist and Shout escalated to a positively murderous volume I hurried to the bar and mimed a

| | |
| --- | --- |
| 2) Wrokdown's producer/director Anita Monk and.. | request for the advertised ear plugs. They'd run out. Of course they had. I gravitated to the front again to take some snaps of the band, as much to prove my attendance as anything after being granted guest list staus by Taste's irrepressible Ken Murdoch, but after a few minutes I had to beat a retreat as the sound idiots found a way to increase the volume even more. I met Wrokdown's Anita Monk (pic 2) near the back of the room thoroughly enjoying the show. The sound was a little more acceptable there, but any resemblance between the CD and the live band was purely coincidental. That's not to say it couldn't be enjoyed in its own right - the band was clearly enjoying themselves on stage - but for my already shattered ears it was all a bit too much. |

Andie absorbs the Breathing Space liner notes
Goof's Breathing Space non-review..
28.6.08 - Another SA mate, Geoff Miller, sends me the occasional interesting tidbit, so I thought I'd send him a copy of the EP. I hadn't heard back for a while and finally felt compelled to ask if he'd received it.
No, I didn't get the CD......cos if I did I would have put it straight on my system and taken some shots of Andie with the cover. (pic) Maybe she could just carry it around the room.....maybe a shot with her dolly mate....or maybe a shot looking as if she's actually reading the cover notes.
But I'd have to get the shots just right........I'm a bit fussy like that. And you know what I'm like - if it's not exactly what I wanted I'll try again until it's right. But I'd probably get distracted as I'm setting it up in my head - Ju would
want to go and buy some food or something and I'd feel as if I'd missed the moment because I probably wouldn't get back to it for a couple of days and then I'd really feel like I'd missed the moment!
And of course you know what would happen then - I'd drive around listening to it in my car getting to know it intimately and feeling even worse that I'd missed the moment. Gee, I'm starting to feel a lot better that I didn't get it!
What would I do then? If I got it I'd probably start to have pet songs which you're not supposed to do (like preferring one offspring over another). If I'd heard it, I'd be really impressed with Tim's energy in 'Play My Guitar' and really wished I'd congratulated you on that one straight away, because I'd probably adopt it as the tune I play really loud in the car just before I get to a gig. Gee, I'm glad I don't have to go through that!
I'm also very happy I don't have to be taken back to my teenage years, like I do when I hear Bill's rock solid, yet musical bottom end, together with typical Ruddisms on the electric guitar. Whew!
But you know the best thing about not getting the CD? I wouldn't have to sit rocking in the corner fearing the day that I knew would come - the day that you would send me an email and ask me if I got the CD. That would be terrible!!
But I'd probably make at least some effort to atone by sending some melt your heart shots of Andie having her second birthday, or enjoying her first 'baby chino' or even with vegemite all over her face.
Please don't send the CD.........I don't know if I can go through all that!
Geoff Miller
Rocket Girl clip on 'Hits' episode of Wrokdown
25.6.08 - Wrokdown's producer Anita Monk just got in touch to say that Spectrum's completed Rocket Girl clip, in company with new songs from Russell Morris, Swanee and Jon English, will be broadcast on Channel 31 on Saturday July 5th, only to be repeated on the following Monday. Oh, and Ron Govett reminded me to remind you that 'my' Spicks & Specks episode is broadcast tonight on the ABC.

Gaye and Dave share the Sunday arvo ambience with Mike

gig report
St Andrews dream arvo
23.6.08 - Bill noted there were no bikes out the front of the St Andrews pub for the first time he could remember, but there was quite a large crowd in for lunch anyway. I picked the couple sitting next to the stage were Kiwis, and it turned out that Dave Diver (pic) was the Librettos' drummer when they guested at the Battle of the Bands that the Chants won in Christchurch back in 1964! It was a great day in every respect - the band and the crowd enjoyed every moment, and after the show I dropped in on Dick and Mary and shared a fine NZ pinot and roast. Yummy!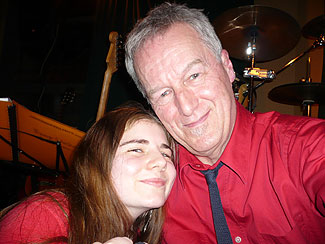 1) Beaming Gary is still with us after a brush with the afterlife 2) Alana and Mike go red for their fourth anniversary
gig report
The Lomond goes Bananas
22.6.08 - It finally clicked as I was taking Alana home after the gig last night. I've never quite understood why the first set at the Lomond often makes me feel a little edgy, but after a casual discussion with sombody about the composition of the crowd it hit me: at least half the crowd at the start of the night may have never been to the Lomond before and certainly have no idea who Spectrum is. With that in mind, I'll be a lot more explanatory and helpful iin future. Nevertheless, by the second set, both us and the crowd had warmed up considerably and things were belting along nicely. By 11.45 the bulk of the crowd evaporated into the chilly night air leaving a core group of desperates, diehards and dancers, prompting me to draw the comparison with a late night stint at Bananas. We were compelled to do a couple of overtime encores by this dangerous bunch who refused to take no for an answer.

1) The Silver Reasons prepare to win over the crowd 2) Mike claims his other harp's this big! (pic - Peter Koryn)

3) Edward Nass spruiks BAD
gig report
BAD night goes great
21.6.08 - The Berwick & District Folk Club delight in calling themselves BAD, but, no matter what you might think when you walk into the fluorescent glare in their HQ at the Old Cheese Factory, they're a listening audience without peer in Melbourne, and perhaps even further afield. Every Ruddy lyrical nuance was picked up, digested, and reacted to appropriately, and that's not true of any other gig we've done - ever. Mind you, they have an agenda that includes an open mic section, and the standard is variable to say the least, but an enterprising young local band, the Silver Reasons, (pic 1), saw an opportunity to present themselves to a new audience and managed to pull off an unlikely coup.
My voice was distinctly croaky until late in the first set, but once I'd warmed up there was no stopping us. The full house sang along lustily to IBG and the Esmeralda encore as they do, and we all went home tired but happy.

Fred's castle of dreams
gig report
Mike & Bill at the Yarra Glen Grand Hotel
20.6.08 - It's the most imposing looking building (pic) you see as you enter Yarra Glen, just over an hour east of Camberwell in heavy traffic, or just a few minutes from the Yering Station winery, for those who judge their location by such things. Fred, who used to own the Terminus Hotel in Richmond, was tooling around with the PA when I arrived and was having trouble hooking it up to the in-house system, and while this never eventuated, we adapted it for our individual set-up quite happily. Despite the hotel's generous proportions, the heating was more than adequate, and while I settled for a simple platter of cheeses, the menu looked excellent. If it were my local, I'd be there regularly. On the night, most of the diners had drifted away by the second set, leaving a dozen or so enthusiasts to savour the Crudd/Pump musical miscellany. We had a nice chat at the end of the night and we'll be looking forward to a repeat on Thursday the 17th next month.

Sally and Walter from my lighting days enjoyed the show
gig report
Sunday arvo Manhattan project
16.6.08 - On the way to the Manhattan I took a call from Gary Mac and Jane Holmes on the RPH Network about the upcoming Max Merritt induction into the Hall of Fame and ended up taking the long way to the Manhattan, but we were still ready to start at 4.00. However, we judged it prudent to wait until the Geelong game had finished on the monitor behind us, and even then we didn't have the audience's undivided attention as the Carlton-Collingwood match finished on a monitor elsewhere in the room. Let's face it, we didn't have their attention at all. A punter told us later that the show had been advertised as starting at 6.00, which makes more sense. Next time..

Aaron signs a Hey Gringo CD
gig report
St Andrews declared noodle capital
9.6.08 - It took a little while to rouse myself yesterday morning, given the exertions of the previous night, but after my guest (Bill) had breakfasted and left, there was a moment or two to record the Marysville gig report and then I was heading towards St Andrews. I arrived to find that Gringo drummer, Ivan, had the stage already set up and had sorted out my spot. Ivan told me he'd been in Germany playing the American bases at about the same time as WHY was in Winsen-Aller and then Gringo saxophonist Aaron (pic) showed off his very impressive Chinese National-style mandolin - and we were away! Apart from getting an uneasy feeling that I was in Bizarro World, the gig was a lot of fun. Sadly Bill did a no-show, and it was only later I discovered a message on my phone telling me he'd broken down on the way home and couldn't get to the gig. It was probably just as well he didn't attempt to drive to Marysville as he'd planned.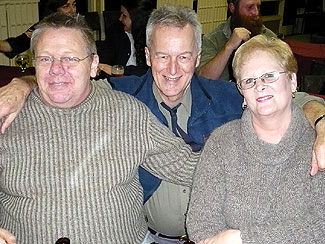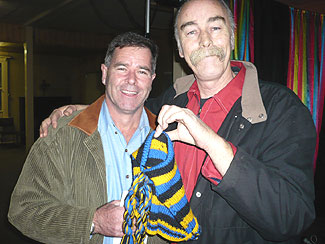 1) Vince and Di came to Marysville especially to see Spectrum 2) Wayne Bisset gets his mangy beanie back
gig report
The snow season keg opener
8.6.08 - It's been a month between gigs and it seems longer, so Bill, Robbo and I piled into the van to head up to Marysville with some anticipation. Despite a premature ejaculation of snow a few weeks back, there was no actual snow for the opening of the season, but, all the same, it was pretty nippy by the time we reached Marysville, nestled as it is in the foothills to the east of Melbourne some 39k past Healesville.
We found Keppels Hotel immediately and our host Bill Hammil showed us the room we were to play in, which was pretty impressive, although disconcertingly large. After we'd set up we decided to eat and relax, but because our meals took rather a long time to arrive we didn't have time to play with the Apache combat helicopters Robbo had brought along for us to do battle with. Next time Robbo!
As for the gig itself, my mood alternated between despair and moderate enjoyment over the night. (Way to go, Mike!) There were only about thirty or forty souls lost in this vast ballroom more used to throngs of several hundred feral punters, which made for a lonely experience, but, on the plus side, they were all familiar faces, and some had made the journey from far afield just to see us. Vince and Di (pic 1) we hadn't seen since playing at their wedding last October, and they'd decided to make a weekend of it in Marysville based around seeing us play at Keppels, and we last saw Wayne Bisset almost exactly a year ago at his place in Narbethong, where he lent Bill the very same hand-knitted beanie that Bill is seen returning to him in the second pic. (Wayne said Bill could keep it in the end).
Bill (Hammil) had hired a couple of lighting trees for the show, but I only switched on the second one after the first set. It was during the next break that the stage lost power for the first time, which it was to do annoyingly half a dozen more times during the last set. I only figured out that it might be the second tree of lights that was tripping the fuses just before the encore, so the last set was like some acid flash back to the London Tavern thirty or so years ago with its fucking demented sound meter.
We were going to stay at the hotel overnight, but the journey's not that arduous, and despite quite heavy fog dogging us most of the way, we got back to Camberwell by 3.00. Today Robbo's in Queenscliff with the Wolfegangs and Bill and I are noodling with Hey Gringo at St Andrews, which means that I can share a red with Dick and Mary on the way home. Looking forward to that
readers' tips
Mike & Bill on Undercover interview
7.6.08 - Secret Sound's Pete Dacy points out that the interview Bill and I did with Undercover's Paul Cashmere is being featured on the Undercover website right at this moment. Perhaps you'd like to check it out for all the Spectrum gossip ancient and modern.
More Milesago feedback
2.6.08 - I haven't got the full list of reviews yet, but in the meantime comments continue to come by e-mail. Here's another from Bernhard Jekic of Williamstown.. Picked up the Milesago CD from you at The Albert - Williamstown. It's been a long time since I have dedicated time to just listen. I was travelling in my car, turned the phone off and put the CD on. I spent a couple of magnificent hours listening to Milesago and words are superfluous to describe the experience over again. Blissful could be one word. When I arrived at my destination I had to check on where and who I was. Thanks for the CD at last
PS - Love Breathing Space too.
If you haven't had your Milesago fix yet, head for the CDs page..
back to the top