Scroll down to the start of the month
Close this window to
return to Mike Rudd &
Bill Putt's home page

1) Adam Hills grills Mike about the complexities of Bill's moustache 2) Mike mystifies his team with his substitute

3) My very own dressing room

Spicks & Spectrum
30.4.08 - My first surprise when I arrived at the ABC in Elsternwick was to find Julie Cafarella (my bro' in-law's niece) working behind the desk in reception. I haven't seen her for years and we had a nice little chat before I was collected by Spicks & Specks Talent Producer Sancia Robinson, with whom I've been talking on the phone about the show over the past few weeks, and taken to my second surprise, my very own dressing room (pic 3), which was blessed with a heater and a shower. There was an episode being filmed before ours, and so I was able to check out how it all worked from the VIP room before Sarah (Ashley) took me back to my dressing room to peruse the book that had been selected (Traffic Flow) for my three substitute songs. So, while it's not quite as spontaneous as it looks, (pic 2), I can tell you that it's still damn difficult to do, especially given that the print was bloody tiny.
We'd had a brief rehearsal earlier, but fellow team member Hamish Blake was
absent due to his Hamish & Andy radio show commitment, so we hadn't actually met until just before I was called onto the set by Adam Hills. Hamish showed an inordinate interest in the 'invisible poo' reportedly smeared on the girls' toilet walls, which gave me a clue as to his humourous bent, but Tommy Dean on Alan Brough's team had been quite reserved and quiet in the VIP room, and so his humour was a revelation (to me, at least) as the show proceeded. Very droll it was, too.
Apart from detecting that the water we'd been given was tainted (it tasted like formaldehyde to me) and thus saving the lives of the entire cast, I made virually no other positive contribution throughout the show, and Myf's team got trounced by a record margin. (Well, maybe it wasn't a record margin, but it may as well have been). Naturally, I beat myself up about it afterwards and barely slept that night as a result, but now (it's Thursday already) I'm almost over it.
I sent Sancia a text thanking her (and the other gals) for looking after me on the night and got this message back: '..thank you so much for coming on the show! What a top night it was! So thank you for being part of it, we loved having you on..' so, maybe it wasn't quite as bad as I thought. I think our episode of Spicks & Specks (#35) is due to be aired in July - I'll let you know.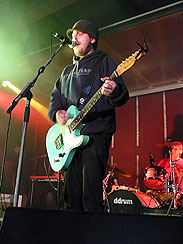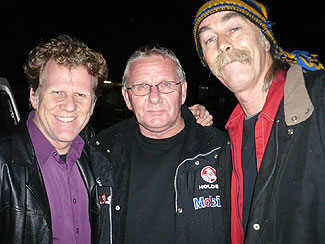 1) Airway Lanes' Dan Hall 2) As well as turning up, Peter actually bought an EP
gig report
The Pakenham drought-breaker - or, the gigs you do when you haven't got a gig
27.4.08 - It promised to be a cold, wet night - and it was. BAD Folk's Edward Nass said it was the same last year and that he wanted to schedule it for the week earlier as a result, but it wasn't to be. It took us a good ten minutes to find the entrance to the racecourse, and we had directions, so unless you were a local like Peter (pic 2) you really didn't stand a chance of finding the place in the dark - that's if you had heard about it in the first place, which nobody but the artists had, apparently. Still, the night had its compensations, one of which was the band (Airway Lanes) that preceded us, (pic 1), whom I pegged as the remnants of Taxiride by the portentous feel of their songs. I can't remember another gig I've done in my Drizabone, but we quite enjoyed our set, despite the cold and the absence of a real crowd. When I got home I discovered that I'd done something horrid to my back, so I shall be reminded of this less-than-spectacular night with every painful twinge for the next few days.. Great.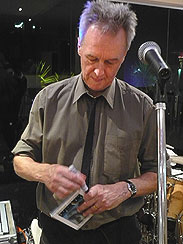 1) Mike signs another Breathing Space 2) Bill explains a point to Dave and Andy (left) at 3WBC
gig report
Mordi goes off!
21.4.08 - 'What a strange name', Tony Brittenden mused as we arrived in Mordialloc, and I tried to think of where the name might've originated in my role as tourist guide, but came up blank. It was a beautiful autumn day, and as a result I imagined we might get the same sort of crowd we had the first time we played there, and I wasn't far wrong either - we had a rip-roaring crowd and thoroughly enjoyed ourselves. The crowd sportingly joined in the fun and sang along to I'll Be Gone and Esmeralda with gusto - they even danced!
At the end of the gig I was swamped by people wanting to buy EPs (pic 1) (the $15.00 price tag went down very well), but it got a little too much like a Peter Sellers' sketch as we were packing up, with a knot of drunken Irish visitors (all built like jockeys) insisting on singing half-remembered Irish folk songs at the top of their jockey voices.
We sped off to Box Hill for our interview with Dave and Andy at 3WBC (pic 2) and we managed to enjoy that as well, and then it was time to take Tony and Jan Brittenden back to their hotel in the city and find my way back to my shack in Camberwell, tired but happy.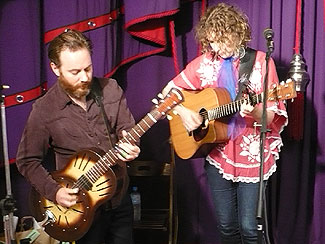 1) Lisa Miller captivates the audience with her pure tone 2) Jeff Laing and Liz Stringer conspire in a bluesy song
gig report
A Record Day at The Basement Discs
20.4.08 - It wasn't that long ago we were at Basement Discs launching our CDs, and so Bill and I were mindful of the difficulties loading in and out and opted to travel light. Bill selected his down-tuned guitar and I carried my diminutive harp case, so we were obviously locked into playing a couple of blues numbers, but we were comfortable with that. The day was organised to promote the virtues of yer local record shop, particularly shops like The Basement Discs of course, with their caring and knowledgeable staff, whose initiatives, like the regular concerts and launches in the shop, are so appreciated by audiences and musicians alike.
Anyway, there was a healthy crowd in attendance watching Lisa Miller tune up when we arrived, and we chatted with Jeff Laing and my Kiwi friends the Brittendens until it was our turn to play. We played three numbers, which seemed to be appreciated, and after picking up our trophy bottles of wine from the gratifyingly frenetic Rod and Suzanne, it was off to lunch at Segovias with the Britts and the inevitable Alana Galea.
1)Bernhard and son Mark enjoyed the night 2) This bloke came from NSW to see us!

gig report
Prince Albert
19.4.08 - I can't tell you what a pleasure it is to play at the Prince Albert these days. Notorious for being the smokiest gig in our tiny repertoire of friendly venues, the only smell now is of stale lager, and the potentially annoying sound restrictions actually seem to work in our favour. One of my fave gigs..

1) Neale Johns and the Blackfeathers 2) Brenden clearly didn't expect this shot to work..

gig report
Spectrum & Blackfeather blockbuster
13.4.08 - After our set, Ken told me that he'd actually gone to the Northcote Social Club to see us on Friday and found 'a mob of foreigners' there, and not the real Spectrum. Let the buyer beware, I s'pose. Not unexpectedly there was only a modest crowd at Don't

Tell Tom to see the clash of the Titans. Somebody told me that another gig guide had the starting time at 9.30, and so they missed the bulk of our set, but the fact is that there was never going to be a big crowd, and it's going to take an investment over time by both bands to build up a following. Whether we actually take that path is up for review.
A funny thing happened on the way to..
11.4.08 - That was nice of Max (above) to send us an old-fashioned postcard and all. Two less palatable things to remark on though. I was in JB Hi Fi in Camberwell when I noticed they had a Spectrum bin. There was a copy of Milesago - and nestled up to it were two copies of the European pirate version of Part One!
I dropped into Choclatté and scanned the EG. There on the front (pic left) was a mention of Spectrum. 'That was quick', I thought, but it soon became apparent that it was the other (UK) Spectrum they were referring to - and they'd left out our gig on Saturday in the free listings in favour of these pommy interlopers!
Breathing Space review
11.4.08 - Quite simply, there hasn't been an official review yet, that I'm aware of anyway. But, a couple of things: 1) I was tickled when at both PBS and Triple R the lines were swamped when a few giveaways were announced, which seems to suggest that it should be out in the shops, and 2) I have had some nice correspondence about the EP, most notably from an old friend and former owner of Rhythm & Views, Wayne Reid, who was familiiar with the material and had certain expectations. Anyway, I'll let Wayne tell the story.
Hey Mike,
The two CDs arrived today. I picked them up from my PO Box on the way to work. We don't have any programs on Fridays, so no oldies. I was hosting a Camera Club for Seniors, but not

expecting anyone til 10am... so, I had my first listen this morning at work. I felt like ringing all the Camera Club attendees & telling them the meeting was off, so I could get right back to listening to more. I sound a bit like a groupie, don't I? Just have to say, though: THANKS. I don't know why or how, you keep doing it...but we are so grateful that you do!!!
So far I haven't played Milesago, though I am hanging out to. I have just kept on playing the EP. It is SO good that you have finally put some of those songs together on CD. Having heard them many times, live, I was a little bit apprehensive. You know, they might not come across as I remembered them. Sometimes when you hear new songs live several times before hearing them on record, you can get used to a certain something about them, but then on record, it's just not captured. Well, you bloodywell nailed them all! Just great! If the future EPs are anything like Breathing Space, you won't be able to get away with a later Best Of...they will ALL have to go on a double or triple set!
So, there you go. Incidentally, Lou at Lance Rock Publicity has pointed out that the snappy interview I did last week with Maynard on ABC Newcastle is up on the Net for scrutiny if you'd like a listen. Check it out

1) Undercover's Paul Cashmere doesn't know what he's in for.. 2) Triple R's Gary Young snuggles up to Bill

3) Kelly Auty and Mike..
The campaign trail winds on..
7.4.08 - A gorgeous autumn day, temperature inversion induced smog notwithstanding, saw Bill and I pulling into the Undercover studio a piffling minute or two late and perch on a couple of stools (I was a bit constipated actually) for a grilling from 'Lucky' Paul Cashmere. We jumped down his throat when he mispronounced Putt as 'Put', but he took it in his stride and masterfully continued to fire pertinent questions our way. I'll advise you when the interview makes the Undercover site.
We whizzed down to East Brunswick and lunched at the Lomond Hotel, before wandering across the road to the Triple R studios and meeting up with Gary Young, best known as Daddy Cool's skins meister, but also the ringmaster of the regular Monday arvo fave Chicken Mary show. He gave us plenty of air space, and we gave him plenty of dirt on our bands past and, well, past. He gave away some Breathing Space EPs too - they had about fifty calls in two minutes!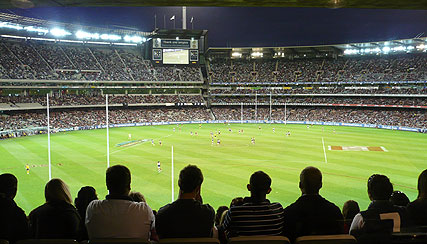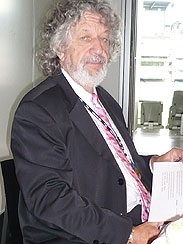 1) The stunning view of The G from the Harrison Room 2) Wally looks very dapper in a suit, don't you think?
gig report
Blues at the home of the Blues
6.4.08 - It was only when I opened the envelope containing our passes and parking voucher that I realised we were supposed to be at the MCG by 4.15 - and it was already 4.00! We made it to Gate E at 4.18, but we were advised that we were at the wrong gate - and then followed a succession of encounters with partially programmed drones who had us driving this way and that and getting more frustrated by the minute. Eventually Bill went on a reconnoitre and found the Harrison Room and I went and parked nearly a kilometere away in Yarra Park. (Now I know where Yarra Park is). We met up with our old mate Wally Bishop (pic 2) and had a quick sound check, and after a couple of introductory videos performed I'll Be Gone, (our 'party trick' says Wally), and settled down till the match finished to do a thirty minute blues set. Carlton lost in an almost thrilling game, so the atmosphere was hardly euphoric, but I figured the blues would be appropriate either way, and, in spite of everything, Bill and I actually enjoyed the set. These sorts of things shouldn't surprise me by now, but a woman approached us as we were wailing away in Baby Please Don't Go and demanded that we 'play something bluesy'...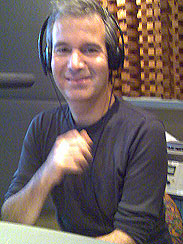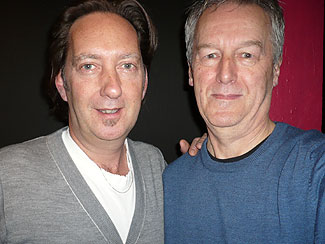 1) Breakfast Club's Phil Kafkaloudes 2) PBS' John Carver with a sleepy Mike
More up close and personal radio..
5.4.08 - It's one of the things you do when you have a release (or two), and it's something I quite enjoy on the whole. Last week I popped down to Southbank to see Phil Kafkaloudes (pic 1) who hosts the Breakfast Club on Radio Australia, which I couldn't remember having done before, but as soon as I walked into the studio it all came flooding back, so I suppose it must've been for the Part One release when I was last there. Anyway it was all fun - and now I know that the Great Depression began in 1929.
Getting up very early in the morning is not my forté, so rising this morning at 6.45 was a bit of an effort, especially given last night's shenanigans, but I made it to the PBS Easey St studios well before the requested arrival time of 7.45. As I pulled up I switched over to what I thought was PBS and heard Rocket Girl coming over the airwaves. 'That's odd', I thought, 'that's the song I'm going to be playing live to air'. It was only after John Carver (pic 2) back announced the bracket of songs he'd been playing I realised must have been tuned to Triple R! I s'pose that's good really - means we're getting a bit of play. Anyway, John made me very welcome and we had a lively chat, interrupted by my spastic solo rendition of Rocket Girl - playing live in the studio first thing in the morning is a fraught timeslot for me. John played I Play My Guitar and the five giveaway EPs I'd brought with me went in a matter of seconds, so I guess that people like what they've heard

If nobody puts in a bid for this painting, we'll put on the musical act..

gig report
Daz & Mike's SIDS benefit
5.4.08 - Daz and I arrived at Lentil As Anything to find a good crowd in place, but the PA and stage were in chaos. Then there was an auction of some fairly hideous paintings (pic), but fortunately the act due on before us allowed us to jump the queue and get on stage only about forty five minutes late. By the time we got to I'll Be Gone, the battery in my guitar had gone flat, so we called it a night. Daz says we might get a SIDS certificate..

Gil Matthews, Mike and Ed Nimmervoll grimace just for you

Questions, questions..
3.4.08 - The hubbub surrounding the CDs' release continues unabated. This morning I received another bunch of orders on the Net and dropped into the PO to despatch them on the way to Aztec for a possible all-day session fielding questions about my murky past. It turned out they were nearly all phone interviews, and the only face-to-face was with my old mate Ed Nimmervoll, (pic) who did the right thing and taped a chat about things Spectrum far and near in the time line.
Later - I forgot to mention that Daz has roped me in for a last minute benefit gig at the Abbottsford Convent tonight (Friday) - might see you there.
back to the top