live gigs
Mike & George at Phillip Island 6.2.22
Mike and Bren at Sunbury 17.2.22
Spectrum and Chris Stockley's BRAM! at the Oakleigh-Carnegie RSL Sat. 19.2.22
\
The chaps return to the old/new Caravan stage
BRAM! and Spectrum investigate what all the fuss is about in Little Athens
20.2.22 - When the gig at the Oakleigh-Carnegie RSL came in I went to the RSL site on the 'net to get the details for my FB flyer and discovered that The Substitutes were actually booked for that date. Aha! I thought - so we were substitutes for The Substitutes! The irony was palpable, so I just had to mention it on the blurb for the flyer I was devising for FB.
To my horror a couple of hours later I found out that The Substitutes' progenitor Peter Summers had unfortunately died, so I quickly removed my facile observation.
Spectrum actually appeared as a guest of The Substitutes some years back at Prahran's Ormond Hall (Opus) and I got to know Peter a little bit then. He had recorded our set and wryly observed that there were a few instrumental breaks in Spectrum's songs where absolutely nothing happened! Bugger. Busted.
Spectrum's sound check on Saturday was set for 4.00, which is quite early really. Once we were set up we noticed that the stage had been modified since we were last there - specifically that it's been carpeted. I don't remember if the curtains at the back of the stage were in place back in the old Caravan Club days, but in any case the on-stage acoustics were significantly muted from what I remembered.
Daryl wasn't able to be at the sound check owing to prior commitments, but we managed to run through a couple of tunes before the boys from BRAM! were due to to be sound checked.
Because it was still early I was able to head back to Mt E and have a relaxed asparagus (the vegetable that keeps on giving) risotto with Maria while the Lenovo tablet that I use on stage to remind me of the set-list was being recharged. (I usually check it before leaving the house, but this time I made an assumption that it was charged. Ignore the 'never assume anything mantra' at your peril).
Maria and I arrived at the familiar silhouette of the Caravan Club just as BRAM!s set got under way. It appears that there's a new in-house PA, but the inherent room-shape still plays havoc with any attempt at fidelity. I inserted my ear protection and after re-programming the Lenovo posted what amounts to a distress call on FB.
It's nobody's fault, but Spectrum's audience needs more advance warning than they got on this occasion and the numbers in the room were, well, modest. Having said that, the response we got throughout our set and particularly in the sing-along bits was excellent and we got lots of compliments as we loaded out.
I especially liked the lady who looked me squarely in the eye as I was coming back to retrieve my guitar and said confidently, 'Blues Roots & Americana Music - goddit!'

back to the top
Mike and Bren help mark the first Sunbury Festival's 50th aniversary with Peter Evans and company in front of an enthusiastic audience in Sunbury - Thurs.17.2.22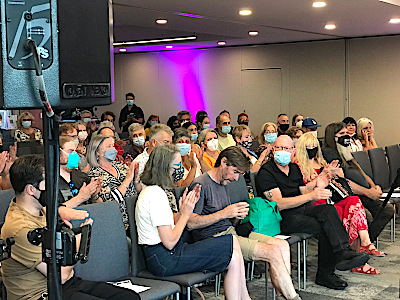 The Hume City Council welcomes Sunbury fans
Mike & Bren walk the walk and talk the talk in Sunbury..
18.2.22 - I'm a little worn out today, but I reckon that back at Real Guitars, Brenden Mason's been even more so.
We left his place yesterday for the Hume City Council's Barefoot in the Grass presentation (celebrating the 50th anniversary of the Sunbury Festival) at what we considered to be a prudent 4.30 and squeaked into Sunbury at 6.00. Our unfazed Council contact, Feysa Yazar, welcomed us warmly at the door and it wasn't long before we'd successfully sound checked and were hoeing into pizzas before we wandered downstairs to our assigned performance spot and launched into our first song, The Indelible Murtceps' Indelible Shuffle.
We'd brought our teeny-weeniest amplifiers and I was pretty pleased with the resultant combination of guitar sounds. We sauntered through another three songs before joining Peter Evans, Adrian Anderson and local girl Deb Sweeney for a panel discussion about the Sunbury Festivals in general, but the 1972 one in particular.
I got the impression that the room was full of Sunbury veterans, but there was also a sizeable contingent of younger Sunbury Festivalphiles in the room and we spent a deal of time signing copies of Peter's Sunbury book and other Sunbury memorabilia for both generations.
In my experience nobody knows more about the Sunbury Festivals than Peter Evans and so he made a fine lead speaker and moderator for the panel discussion. Adrian Anderson had a swag of T-shirts from the era and spoke emotionally of the current plight of many of the roadcrew involved with the hard yakka of setting up and, to all intents and purposes, running the Sunbury Festivals.
After a long session of forensic questions from the floor, the panel discussion was finally over and Bren and I finished up the evening with Esmeralda and I'll Be Gone (with enthusiastic audience participation) - and it was over.
All in all a rewarding night for all who attended and many thanks to the Hume City Council's Libraries After Dark initiative for making it possible.

back to the top
Mike and George Butrumlis, masquerading as The Mike Rudd trio, conquer the Gilmore St Sessions 6.2.22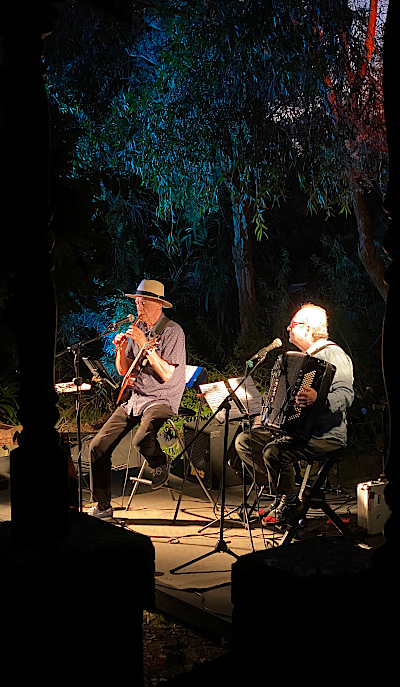 Yes, the old recorder being abused with max reverb
The poorman's trio scores a triumph on Phillip Island
8.2.22 - It's already but a fuzzy memory, but Maria's pic (above) conjures up the pastoral scene that greeted us after a two hour trek to Phillip Island, not all that far from the Archies Creek Hotel where Spectrum and Murtceps disported themselves just the week before. Maybe we should've considered staying in the area in the interim..
Alarmingly, I'd heard from trio bassist Jeremy Alsop that he was unavailable to be picked for the team, so the advertised trio was one short of the required three members. However, a run through with George had confirmed my suspicion that the two of us could pass muster as a trio with an imaginary bass player to call on if required.
We'd arrived early enough at Doc White's Smiths Beach hideaway to survey the compact but adequate stage and have a bit of a fiddle with some sound and set-up options before having a bite to eat with Doc and his bassist Pete Howell.
Doc and Pete then took the stage for an entertaining set of Doc's tunes including a sprinkling of takes on some early blues and gospel songs. I really like Doc's self-contained old-time bluesy guitar picking and mentioned that to him as he left the stage - where, before my eyes, he transmogrified into our helpful stage manager and sound engineer.
Pete Howell kindly lent me his tall stool that put me on equal footing to George, who understandably prefers to be well clear of earthly encumbrances with his enormously heavy piano accordian strapped to his body like some diabolically perverse parachute.
There was some friendly banter with the audience, camped opposite us as they were on the other side of the garden path with their BYO deck chairs and picnic rugs, meals and drinks, before the sun audibly plopped over the horizon and the audience disappeared utterly into the gloom as we began to play. We had lights directed at us, of course, but I had to rely on the odd titter and the warm applause after each song to be certain the audience was still there for the rest of the evening.
It was charming though. Doc's unconventional BOSE sound system is practically invisible to the untrained eye, but is very true-sounding and perfect for the space and the audio levels on the night. The weather was perfectly acceptable too, cool with just a slight breeze, leaving a potential possum attack and bothersome insects attracted by the lights as the only hazards.
Even with the limited time George and I had to prepare, we had enough material for nearly ninety minutes and I was pretty pleased the way it went over.
You can see in the photo that I'm playing my ancient recorder, which means that we're playing the equally ancient Spectrum Part One song, Superbody.
Other songs on the list included Ariel's And I'm Blue and perhaps surprisingly Confessions of a Psychopathic Cowpoke, Spill's I Wonder Who's Kissing Her Now and Living on a Volcano's San Andreas and (I Cannot) Look at the Moon. Breathing Space Too's Meanstreak and the as yet unrecorded Old Black Dog, Murtceps' Esmeralda plus three versions of I'll Be Gone and Bill's post-mortem song, It's a Lottery also made appearances, so it was a varied night of Ruddy selctions.
My only regrettable error was not warming up on my guitar before the set, which meant I was lurching a bit initially, but having George's sensitively attuned accordion fleshing out the accompaniment successfully disguised most of my guitar blemishes and my confidence quickly grew.
My thanks to Doc White for the invitation to play at only the second edition so far of the Gilmore St Sessions. With any luck we'll be invited back for a repeat performance with the trio again - only next time we'll all turn up.

back to the top
© 2018 mikeruddbillputt.com