live gigs
The Indelible String Band's debut at the Brunswick Ballroom Sun. 28.11.21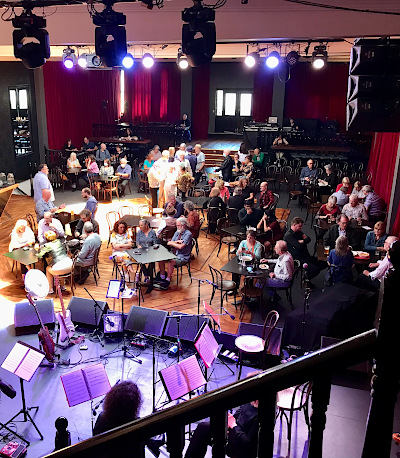 The view of the Ballroom from the Green Room
The Indelible String Band pulls the first one out of the box
29.11 21 - Arrangements, or strictly speaking re-arrangements of Spectrum and Ariel songs were swirling around my head when I awoke (far too early) on Sunday morning - G-Day (gig-day). I consoled myself with the fact that we had one more run-through of the songs at the venue before showtime and I had also decided not to worry about predetermining the chat between the songs as that would come to me when I needed it.
Consistent with that philosophy I'd left nearly everything else till the last minute as regards clothes, equipment etc. so I was far too busy to fret too much about the songs.
I arrived at the Ballroom at almost exactly 11.00, the projected time for the
doors to be opened by Stive Collins, our sound engineer for the day and to troop up the advertised twenty stairs and set-up for our sound check cum rehearsal - and that's exactly what happened. A good omen perhaps?
We were all concerned for the well-being of Noel Kennedy (the man whose vision had led us to this point that I respectfully refer to as maestro) who was carrying on as though there was nothing to see here, whereas in fact he'd suffered a series heart attacks the week before culminating in having a stent inserted last Tuesday!
He claimed to be not in any discomfort and just felt a little weak and the show should go on - the very definition of a trouper to my mind.
While the medics approved of his participation in the gig, his wife Kath and son Brian carried the keyboard and accoutrements up the fabled stairs, as Noel was forbidden from lifting anything heavy - as well as from getting too excited probably.
We had a useful rehearsal and there was a little queue at the front door when film-maker Peter Lamont and I popped next door for take-away vegetarian sausages, a category of sausage that I was unacquainted with until then.
Peter had volunteered to film the afternoon's proceedings and I've just heard from him that the footage is good and possibly even releasable! He took a couple of pics of a tired but content Crudd on those very same stairs after the gig.


Peter Lamont's pic of Crudd relaxing after the show
In the event, the gig went as well as could possibly be hoped for and, in some respects, considerably better than anticipated.
From my perspective, I thoroughly enjoyed simply singing my heart out in my simple old songs more than I can remember. Period.
This could be due to two reasons. One reason that Maria suggested was that, with the exception of a total of two brief minutes, I was unencumbered by guitars. (Mind you, she also thought there was room for me to play a bit more guitar).
The second was that the on-stage volume was set to the level of the four unamplified stringed instruments, (Jeremy's bass was an upright bass, but an electric version with its own amplified monitoring) and this allowed me to explore the considerable dynamic range that was left over - and happily I was in the mood to explore that range.
The chatter between the songs that I had purposely left blank just flowed as well, so, with the exception of a couple of unexpected vocal blurts, I was actually thrilled with the afternoon's proceedings.
That said, there's no doubt there's a lot that will improve with further performances under our collective belt. On this inaugural occasion however, the mood on stage was euphoric and this also seemed to true of the lovely people who were watching and listening.
The end result is that I now feel confident there's an audience for this sophisticated but approachable style that Noel has brought to the Ruddish oeuvre.
Noel and I owe Sarah Morse (cello), Issie Morse (viola), Bobby Macindoe (first violin), Roger Young (second violin) and Jeremy Alsop (bass) a gig at the Warragul Performing Arts Centre if not a full regional tour for helping these two old rockers realise part one of a crazy dream.
Bring it on!
back to the top
The return of The Double Bill Show - to Arcobar! Thurs. 25.11.21
Rudd does his best with The Madders on Badlands
Spectrum joins Madder Lake at Arcobar (for a change)
26 11 21 - It was like homecoming week for me when I rolled into Heatherton for the set-up and sound check at Arcobar, but none of the other players in the Spectrum or Madder Lake had even seen the place at close hand till they turned up. I must admit to being sceptical that we could even fit our equipment into the building, let alone onto the napkin-sized stage - but, somewhat amazingly, it all worked.
It was a squeeze mind you, especially with the concert piano lurking in the corner, (?) but Steve Georgiou's decision to employ a sound engineer, (Craig) was very sensible under the circumstances and both bands' sound checks were dealt with efficiently and menus for our complimentary meals were being consulted in no time at all.
Spectrum had elected to go on first and I'm not sure what I was thinking as Franz introduced us to the capacity crowd, but it wasn't till I actually started the guitar intro to Launching Place Part Two that I realised I hadn't got my hearing protection installed and it was going to be a noisier night than I had planned for.
Tech talk warning: The last minute mods to the my brutalist guitar amp at Sherlock Amplifiers during the week meant Bren and I were blending as one in both in tone - and volume - and the unit sounded pretty tight overall, especially given the prolonged COVID layoff. (It's over!)
The audience responded enthusiastically in Red Hot Momma, Esmeralda and, of course, I'll Be Gone and Franz was waxing lyrical about our set (and the Madders' set) - it's always a good thing when the promoter is happy!
I stayed for a few Madders' numbers and joined the chaps for Badlands (pic) before heading back to Mt Evelyn, satisfied that this time the prospects for an unbroken season looked pretty good.
Speaking of which, I mentioned the upcoming Indelible String Band gig at the Brunswick Ballroom this Sunday arvo to the audience - without much elaboration. As I was doing so it struck me that the two set-lists are very similar, sharing as they do Some Good Advice, We Are Indelible, Keep on Dancing, Esmeralda and naturally I'll Be Gone amongst others, but that the treatment of these relics could scarcely be more different. A bit of a mind-fuck for this old relic - I can get away with the odd deviation with my fellow close Rudd-watchers in Spectrum, but with the MSO professionals reading the revised arrangements from a pre-determined script, I'll have to have my wits about me.
That said, it's gonna be great fun I'm sure. Noel Kennedy's arrangements are brilliant and evocative and I still have lots of scope to warble weirdly, but in a string-rich landscape. Stay tuned!
back to the top
MyCrudd & The Hornets at Arcobar Wed. 10.11.21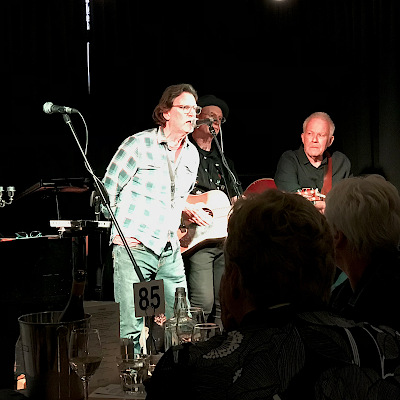 Arcobar's Franz tells the audience a thing or two
The drought is broken (again) as Crudd & The Hornets pull off another one..
11.11.21 - What can one say? Here we go again? The pandemic as we know it has been partially subdued, but the malady lingers on? In any event, there was the post-COVID definition of a full house i.e. a half-full house on hand at Arcobar, nestled as it is in the business precinct of Heatherton on Warrigal Road as it heads to The Bay and the atmosphere was, well, mildly encouraging.
The perfunctory sound-check at 5.00ish achieved a sonic balance of sorts, but didn't add anything to the previous day's rehearsal with draftee Arcobar gig keyboardist and Hornets' regular, Bruce Haymes. Nevertheless, we remained steadfastly optimistic about the night ahead.
After sound-check we were treated to a fine meal and drink by Arcobar's Franz Madlener on our reserved table, but that left us with a further 90 minutes before showtime, so I used the time to my advantage by changing my shoes.
I'd suggested to Craig and Jeff that for this performance we split the show into two distinct halves, with Mike-the-side-dude in the first set, followed by Mike-the-front-dude for the second set, rather than mixing the songs democratically as we had the first couple of Crudd & The Hornets' shows.
So I joined the chaps on stage after their first song and loosely accompanied a few Hornets' tunes on harp and guitar, then dropped out for a couple, returning for the A Rainy Night in Georgia finale. The set was neat and tidy and I enjoyed my part in it.
Technical discussion warning!
Mind you, I might've enjoyed it more had my guitar amp been fully-functional. It's been sitting hopefully in the back of the van for months and I'm guessing that the vibration shook loose a connection and as a result I'd lost one of the channels. COVID strikes again!
I think the last time we were at Arcobar I plugged my Kelly (the Les Paul-style humbucker guitar that I use as my alternative guitar with Spectrum) into my tiny Roland amp and miked it through the PA, but I was pretty much inaudible as a result, hence the decision to use my Fender amp, AKA 'the Beast'.
End of tech discussion.
'My' set went OK. I regret spontaneously dropping San Andreas from the set, because the reflective G version of Jamaican Farewell probably got the best reception overall and we collectively enjoyed playing an extended version of the Murtceps' track Going Home, which The Hornets' recorded some years ago.
The audience joined in somewhat cautiously when invited in Esmeralda and I'll Be Gawn, but to be fair they were possibly a little out of practice too. In any case, Franz assured us the mood was enthusiastic as the punters left the building, so we were content with that..
MyCrudd & The Hornets will be back at Arcobar on Wednesday the 8th of December. Restrictions may've eased even further by then and so it's bound to be even more of a HOOT!

back to the top
© 2018 mikeruddbillputt.com