gig reports
What do you call a Seniors' concert in Fed Square? Let me know. Sun. 6.10.19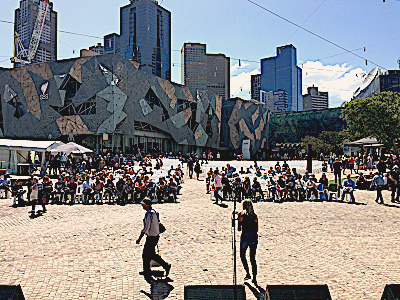 The seniors are baking in the distance somewhere
The last Spectrum gig for the year goes very Morning Melodies..
7.10.19 - Spectrum, as seen in the recent 50th Anniversary series with Brenden Mason on guitar, had just the one more assignment before hauling up stumps for the year and that was an appearance in Fed Square on Sunday morning for Vic. Seniors Festival. I don't think I've ever played on the main stage before, but the Dept. of Human Services' Chris Reidy who negotiated the deal to have Spectrum on the bill, said we should remember to bring a hat, which surprised me a bit as I'd thought the stage was covered. He also reminded me that Sunday was the first day of Summer Time and that we'd lose an hour's sleep overnight, so I duly warned the rest of the band per email (my messaging on the iPhone from Mt E has been even more suspect lately).
Nevertheless Brenden appeared quite surprised that Broc and I had arrived so early to pick him up and it wasn't until we were sipping coffee in the Square before the first set that he tumbled.
There was a thousand-piece orchestra playing some Greek favourites (very nicely) on stage when we arrived and so we anticipated a slightly late start and once the cast of thousands had shuffled off we had our heads down concentrating on getting things set-up as quickly as possible.
I was so busy I didn't notice the dancers in front of the stage boot-dancing to the recorded music and so I was shocked when somebody arrived at the front of stage yelling at me to 'stop making that noise, we can't hear the music' followed by 'show some respect!!!!'
In the event we were a good twenty minutes late starting the set which was severely truncated as a result. It went down well though and even with a recurrence of my effects board issues the second set went down even better than the first.
Or I think it did. The audience was a long way from the stage, and I suspect that some of them might've hung around simply because they were glued to their plastic seats in the hot midday sun.
I did need my hat too. The stage was covered - partially - but where I was standing was in the full sun. I'm sure I looked every bit the pensioner in my panama hat and I have an uncomfortable feeling that I can see the future writ large..
back to the top
The Indelibles chance their arms - and fingers - at the Alpine Retreat Hotel for a second time. Fri. 4.10.19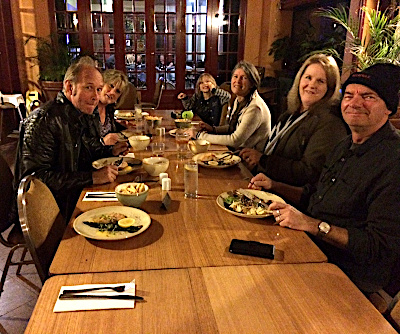 The food was just as good this time around - hooray!.
Before the second time becomes a 'thing'..
7.10.19 - What is it about the second time playing at what was an enjoyable gig the first time around? Maybe you could compare it to the 'second album syndrome' that young bands almost invariably experience, except the expectations come from within the band rather than the critical masses.
The Indelibles had unexpectedly enjoyed their first time at the Alpine Retreat in Warburton a month or so back and consequently expectations were high for a repeat or even an improvement - well, on my part anyway.
I got there early enough. I'd been compelled to make some mods on my effects board and I was keen not to put myself under any undue pressure, especially given the wound to my index finger from my highly publicised soldering accident not quite healed.
I needed every bit of the extra time setting-up too, but by the time Robbo had set up and we'd had a bit to eat (pic) we were all ready to roll. And rock..
The CD player was skipping as if in some kind of omen, but I was quite pleased with the sound I was getting out of the modified board and had a night out on my guitars, even though my finger was oozing blood by the third set.
It was a bit quieter attendance-wise, which was disappointing but that seems to be our lot these days.
As if by way of compensation the crowd was very appreciative, so it wasn't such a bad a night all told. No actual second-gig syndrome here, move along please!

back to the top
© 2018 mikeruddbillputt.com