gig report - Spectrum drive to Sandy Point 15.3.19
gig report - Spectrum at Wanstock 2019 2.3.19
The Fabulous Double Bill Show hauls arse to Warrnambool and Geelong 30 & 31.3.19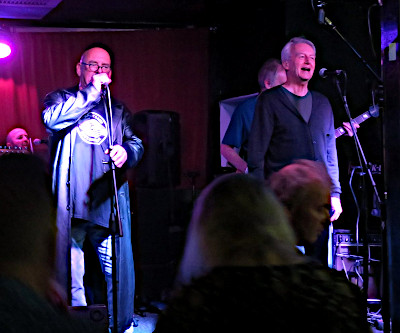 Mike's massive couture faux pas - not the cardigan! *
Two days seems like six on the road with the Fabulous Double Bill
1.4.19 - Thirty minutes into the four hour journey to Warrnambool one of my hearing-aids signalled its battery had expired - and I discovered that I wasn't carrying any spares. Thankfully that didn't auger any further (major) disasters and we arrived at our chosen accommodation in plenty of time, only to discover that it was seriously deficient in just about every modern convenience - and the mutinous muttering grew ominously louder. Oh well, let's load-in to the gig and hopefully we'll get that sorted in the meantime.
The Loft is on the first floor and as archetypical a rock venue as you could ever imagine - groovy in a seriously run-down sort of way. Lynny, The Loft's present owner (it closes down in June) is a cheerful, welcoming woman and when she heard of our accomm. problems offered us the run of her air bnb just five minutes down the road. Told you - problem solved!
The Loft's groovy but not that big and the stage is equally not that big, with the result that the stage sound was unwholesomely muddy for pretty much everybody - added to which Bren's amp decided that the Spectrum set was quite enough and he was compelled to borrow my trusty Hot-Rod for the Madders' set.
There was one magical moment in the Spectrum set when we started playing Disco Dilemma and Ted Lethborg, the world's greatest DD fan, appeared in front of the stage and acted out the song in a Travolta-like mime to the stunned amazement of Warrnambool's ageing Spectrum and Madder Lake fans.
When I guested on harp in Badlands in the Madders' set I outraged the rock couturists in the room by wearing my old-guy's cardigan (pic) - all I can say in my defence is it can get damn cold in The Loft's green room.
The air bnb was quite comfortable (once we'd mastered how to use the heater) and I slept pretty well - that is until my infernal internal alarm went off at 8.00.
We duly arrived at the Barwon Club Hotel at 2.00 to find the Madders loaded in and mostly set up - they were opening the show this day and by default we were actually headlining for a change!
I watched quite a bit of their set too and thought it was easily the best since the Double Bill tour began - and they didn't miss their extra keyboardist one little bit.
In the hurry to get set up I didn't test any of my gear and only discovered about half way through the set that my iPhone pre-amp had been wired up back-to-front. In future I'll have to remember to bring a flashlight on stage with all the other bloody paraphernalia.
Disappointingly the room was barely half full, but at least this time the stage sound was quite acceptable and the Madders' set had sounded absolutely fine out front.
In any event, the response from the audience was extremely warm for both bands and I found it very hard to get my gear packed up at the end of the afternoon with people wanting me to sign posters and CDs and talk to me.
Roll on the next chapter in the Fabulous Double Bill Show!
*pic by Pina
back to the top
Spectrum and The Indelibles drive a million miles to find love and lasagna at the Sandy Point Community Centre 15.3.19

Spectrum gets the crowd on its feet at Sandy Point
A big day out for the Spectrum boys at the Prom Coast Festival
18.3.19 - Facebookers will have seen that most of Spectrum were guests at the annual Myeloma Business of Winning luncheon at the MCG last Friday before optimistically heading off to arrive at the small Victorian enclave of Sandy Point, about forty minutes from Meeniyan and two and a quarter hours from the CBD - on a good day.
After 3.00 on any Friday doesn't qualify as a good day, but I was still surprised to discover Robbo and I were the first to arrive at the Community Centre at about 5.45.
We were greeted there by the Music Club's Rob Nicholson, who seemed not at all concerned that we were late - the opposite if anything.
The band arrived in dribs and drabs but still had time for a run-through of a couple of numbers before adjourning to the Green Room for a home-made lasagne and sundry other goodies made by Rob's wife, Janine.
The show as opened by Paul Savage, aka Loophole Savage, a former harmonica student of mine who's defied the odds and actually made good. I watched his set from the back of the room and was most impressed, as was the audience who had quietly filled the room while we were enjoying our spread.
Then it was The Indelibles' turn. We've not done this kind of thing since the halcyon days of the TF Much Ballroom when we put on a number of Spectrum concerts supported by the Indelible Murtceps, but there are some subtle differences between now and then. The Indelibles' remit allows the band to play material from all the early bands to more recent songs (and the blues), but although confined to reproducing the early output exclusively, Spectrum now boasts an extra player in Madder Lake's ace guitarist Brenden Mason and there is a distinct bump-up in intensity as a result.
I don't know if that was the reason, but when I announced the Indelible Shuffle, a good number of the audience rose from their seats and moved to the front of the stage - and commenced dancing!
I really felt as if we had been transported back to the '70s and we were playing at the Eureka Hotel again! (Or was that the '80s?)
They stayed there too, so I'll be interested at Spectrum's future gigs to see if we've actually crossed some sort of threshold in the band's progress or if it was just one of those fabulous nights..

back to the top
Spectrum plays Wanstock 2019 at the Shoppingtown Hotel 2.3.19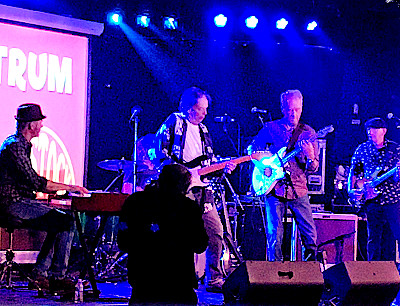 Bren Mason does Tommy E at the Wanstock 2019 (Deb)
Wanstock 2019 conforms to the well-worn script in the rock'n'roll handbook
3.3.19 - I met Geoff Wamsbrough in person for the first time yesterday as we waited for a sound check on a stiflingly hot (allegedly) autumn afternoon with a disturbing backdrop of fires licking the base of the southern end of the Dandenongs. Geoff and I had been exchanging emails about the gig since December last year when he sportingly offered to pay half Spectrum's fee in advance, but recently I detected some panic in his usually assured emails. Bookings weren't strong and he didn't understand it, especially given the line-up. For what it's worth my guess is that the line-up was one legendary act short, but possibly the attempt to combine a bevy of lesser-known younger bands with the two elder (Kiwi) rock statesmen was also problematic for a potential boomer audience.
As I said I'm just guessing, but in the event it has to be said that when Maria and I braved the outrageous decibels to find our away to the band room, the audience numbers were disappointing.
Luckily Bren had made sure that we'd had some sort of sound check that afternoon, because Broc's Jazz bass guitar chose that moment for its electronics to unravel and would only produce a sound like a harpooned whale. As it was, the band that preceded Spectrum went wildly overtime and there were enough complications setting up with time constraints without the prospect of a large mammal dying on stage.
I'm told our sound cleared up after the first number and the on-stage sound was generally tolerable, but in principle I remain unconvinced that the oddly-shaped Shoppingtown Hotel 'cabaret' room is even partially susceptible to the blandishments of extreme volume. Rose Tattoo is there in April..
Spectrum managed to play all of its projected set, apart from Cypherland Blues and went only five minutes overtime, but M and I left for the peace and quiet of home even before Kevin's set got underway. Knowing Kevin I'm sure he was as fantastic as usual, but my ears were telling me that I'd had enough volume for one night.

back to the top
© 2018 mikeruddbillputt.com