gig report - The Indelibles Yo Ho Ho in Willy
gig report - Mike plays the Grandview Hotel
gig report - The Suits play a party in Marysville
Spectrum appears in broad daylight at the Western Port Festival 23.2.19

Brenden Mason toasts Hastings with a takeaway coffee
The Badloves get the lights - Spectrum to sue Hastings' council
27.2.19 - Singer/songwriter Steve Romig made the transition from performer to talent booker for the Western Port Festival and, despite having the performers he wanted booked in early November, nearly came unstuck with some last minute politics. Thankfully he managed to hold his ground and everything ran pretty much to schedule on what turned out to be a perfect day for a festival.
I've never been to Hastings before and I had a little adventure getting there, but I'd left home so early I could've had a couple more and still been there in plenty of time.
I enjoyed the Detonators set, despite Rockwell's harp amp giving up the ghost, but I think they might've gone a bit overtime and Spectrum's set was cut a bit short as a result.
I was using the Fender Twin that was provided in the backline and was bothered that it was so CLEAN but we muddled through the set OK - Bren
was particularly pleased that he didn't have to refer to his notes for the first time.
As I mentioned it was sunny and I can vividly remember the games management used to play at Sunbury to 'get the lights' - but we're not suing. The oval did look a lot more interesting with the lights but I didn't hang around for the Badloves' set. Instead I challenged my night time navigation skills by not using Google Maps on the way home on a pitch-black night. Way scary!
back to the top
The Indelibles loosen up on a dead man's chest at the Pirates Tavern in downtown Willy 22.2.19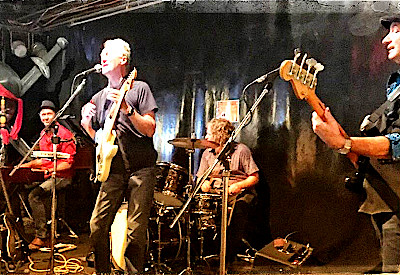 The Indelibles plus G&T at the Tavern (Deb Roberts)
The WOW factor helps make for a special night in Willy
26.2.19 - With the St Andrews pub seemingly off the menu as a regular venue I had seriously begun looking round for a another gig to keep The Indelibles in match practice when I received a call from Marje (Marjorie) at the Pirates Tavern on the opposite side of town in Williamstown, or Willy as its invariably referred to by the locals.
Spectrum has been a fixture over the decades at Way Out West at its two homes, the Willy RSL (now demolished) and the current location at the Newport Bowls Club, so I was very happy to see a contingent from WOW, including my very good friends Rob and Wendy Rowe, already seated forty-five minutes before the advertised starting time.
Indelibles' keyboardist Daryl has played the Pirates Tavern with Hey Gringo over the years but I'd not even seen the place until I walked in last Friday evening after mixing it with the traffic through the tunnel and over the West Gate Bridge.
It's bigger than I expected - really two rooms in one - with a decent-sized stage to boot. Maurice looked after the PA for us so there was only the stage gear to deal with, but I struggled to get myself tidy so we could start on time - I had some complicating technical issues to deal with which plagued me all night, but I tried not to let that spoil the party.
I'm not sure but I suspect the G&T that Rob provided was the catalyst to my more relaxed approach but, in any event I thoroughly enjoyed the night - we all did. The good-sized crowd on hand enjoyed the night too and demanded an encore.
I suggest that our disappointed St Andrews' Spectrumites seriously consider a visit to Willy to catch our next performance there on Fri. April 5th - it's a long way fom the hills but I can guarantee a warm welcome and a great night.
back to the top
Mike has a fun night at the Grandview with Aaron Schembri despite the usual tech problems 19.2.19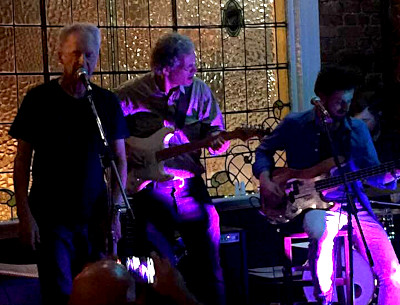 Greg Champion joins Mike and Aaron for IBG (O'Rourke)
Wunnerful fun in Fairfield on a Tuesday night!
20.2.19 - I arrived at The Grandview Hotel in Fairfield an hour before showtime. I've often driven past this imposing-looking building on Heidelberg Road and wondered what it might be like to play there. It's a Melbourne rock'n'roll institution of course, but one I've managed to miss out on over the decades.
Like a lot of early 20th century monoliths the imposing exterior conceals a rabbit-warren of big, small and smaller rooms, interconnected with unassuming doors marked 'push' or 'pull' and passages leading to nowhere in particular - I eventually had to ask a young serving wench where the entertainment was.
It turned out to be another smallish but friendly-feeling room where there were already a few people assembled - including my host Aaron Schembri, who cheerfully offered to help me bring in my stuff.
I met Anne O'Rourke accompanied by Wayne Burt in the car-park and then later on Craig Horne (researching a second book!) and Greg Champion arrived with his sister-in-law Janine, who booked Spectrum for the Sandy Point Community Centre in March.
I opened proceedings with a solo set of Ruddite offerings plugging my Morris nylon-string into the PA via the unpredictable loop-pedal - which lived up to its reputation and behaved most waywardly. It's a difficult situation to deal with and retain any dignity - I wanted to get down on my knees and scream at it - but in the event I just pretended nothing had happened.
Apart from that, the songs I'd selected (incl. San Andreas, Old Black Dog and Bill's It's a Lottery)) went over pretty well - and then it was time for some rock'n'roll bonding with Aaron Schembri on guitar and bass and his mate Ben on drums with a selection of songs that included standards that Aaron had chosen (Johnny B Goode, Jambalaya etc.) and some more standards from the Spectrum Plays the Blues songlist, like Crossroads, I Ain't Superstitious and I Just Wanna Make Love To You with Esmeralda and never forgetting I'll Be Gone (with Greg Champion on guitar!) thrown in for good measure. I even got to play bass on a couple of numbers!
Thanks to young Aaron for suggesting it in the first place and for being a generous host - it was (mostly) a fun night for me and the audience seemed to enjoy it too.
back to the top
The Suits play at a surprise 65th birthday party for their very good friends in Marysville 2.2.19
The Suits looking very casual on a hot as verandah
The Suits strip down for a hot evening in Marysville
5.2.19 - Beverly Fraser has been a valued friend since the days when she and her partner Leigh owned the Vesbar, a tiny bar in the coastal village of Sommerville on the Mornington Peninsula where they regularly employed various combinations of my bands. Bev's a singer herself and Leigh's a guitarist so there was more than the usual empathy between the owners and the performers and there was always a lovely relaxed atmosphere as a result.
Some months ago Beverly got in touch about a 'surprise' party she was planning for Leigh's 65th birthday for which she wanted the three-piece band (the Suits) to play the music.
So, on the first Saturday of February there we were with our partners (and child) and about thirty other invitees all shooshing each other in anticipation as we strained to hear Bev and the still oblivious Leigh arrive and open the sliding door into the kitchen/dining room..
SURPRISE!!! Leigh reeled back from the door as if he'd been swatted. A very satisfying result for all the guests - and for Beverly of course as the party's architect - it had been very difficult not to give-away any clues to the surprise over the months.
The Suits had spent an inordinate amount of time setting up on the verandah in the hot afternoon sun but eventually got round to playing - the first gig of the year this time for sure Rocky!
It was a fun evening all told - Keaton had requested a 'jam' with the band and appeared before the last set for a brisk 12 bar workout (best yet) and even being dive-bombed by squadrons of brown beetles attracted to the house lights had its amusing moments.
It was just good to play again after the endless Christmas break, although I have to confess I was exhausted by the time we reloaded the van. Actually I was pretty wacked after the set-up, but it was all worth it to see the smile on Beverly's face at the end of the night.

back to the top
© 2018 mikeruddbillputt.com