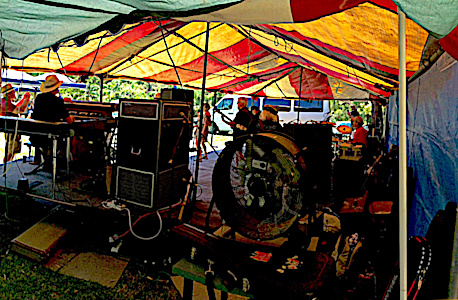 Rick's daughter has a ball in the shade with an all-star backing band
Rick Evans' Australia Day special
29.1.19 - Of course I'd heard about it somewhere, sometime, a rumour here, a rumour there, but I'd never received an actual request to attend the legendary Australia Day festivities at Rick Evens' rural property in the wilds of Upper Beaconsfield. In the event, it was Brenden Mason who rang me and asked if I'd be interested in singing a couple of (my) songs with him and the Madders after their set at 2.00pm approx. The Indelibles' gig in Maldon set for the previous day had sunk without trace so there was no logistical reason I shouldn't make it quite comfortably.
I couldn't help but notice the audience was a Who's Who of '60s and '70s' rock and pop musos plus their families. I chatted with numerous of them too - Bobby Bright, Ronnie Charles, Normie Rowe, Gil Matthews, Mark Kennedy, Pip Joyce, Anita Marcie Jones, Roger McLaughlin so many more. Later in the arvo it got very hot though and, old dude that I am, I left surreptitiously before suffering a total meltdown.