S P E C T R U M S P E C T R U M S P E C T R U M
M I K E R U D D B I L L P U T T . C O MM M I K E R U D D B I L L P U T T . C O MM M I K E R U D D B I L L P U T T . C O MM M I K E R U D D
stop press r

October
gig report / Mike Rudd's Three-Piece Suit takes to the catwalk in Marysville 20.10.18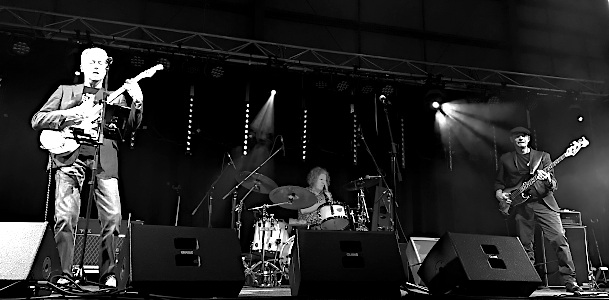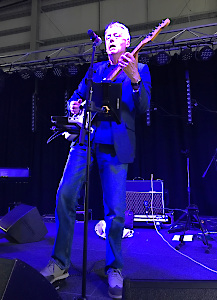 1) The Suits on the big stage at the Community Hall at the Marysville Jazz & Blues Weekend 2) The pain of wearing a jacket is evident (MG)
All three Suits wear jackets in Marysville in a rare display of uniformity
22.10.18 - There were lots of people somewhere in Marysville, but they certainly weren't to be seen on the streets when we arrived on the occasion of the fourth Marysville Jazz & Blues Weekend, largely due to the Band-of-Inclement-Weather unhelpfully sweeping across the state at this usually warm-ish time of the year. However, I was told that ticket sales were actually up from last year's Weekend so I was hopeful of some sort of showing for our 5.00 session at the Community Centre, the largest venue in town, but as we concluded a useful sound check just five minutes before showtime, I knew that a large crowd wasn't going make the first public appearance of The Suits, the guitar, bass, drums version of just about any Rudd band you can think of, the ringing endorsement I may've dreamt of.
We were all using the backline provided by the organisers, even me, but it was all good quality stuff and we started the set full of optimism, promising each other to meet again in ninety minutes time. All of which transpired, with the only glitch being we probably should've only played the seventy-five minutes allotted to us.
Nevertheless Keaton still had time to execute another of his jams with Broc and me and then we were out of there, but not before some of the Renée band arrived and started setting up for their show due to start some two hours later at 9.00 (!). The Suits and well-dressed entourage all came along for the show too, that is after a smashing meal at Elevation 423 that our very good Marysville friends, Bev and Leigh Fraser, had recommended. Bev and Leigh came and sat with us at the concert and Maria and Bev sang along conspicuously with Renée in Are We Heading in the Right Direction.
Then it was 'home' to bed in Bob McNamara's Little Fishes gallery - where, as I was closing my eyes to go to sleep I suddenly remembered that deadly critter, Triple R's Headly Gritter, had booked me to make a phone appearance on his The Party Show on Triple R at 12.45am. Bloody hell! But it was fun anyway and I wasn't even too grumpy waking up at 6.00 the next morning..
gig report / Spectrum plus Madder Lake at the Newport Bowls Club Sun. 14.10.18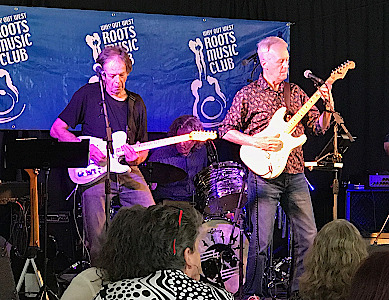 1) This might be Red Hot Momma, but anyway everybody's clapping! 2) Two seriously elderly gentlemen at either end of their fretboards (MG)
The Spectrum / Madder Lake double bill rolls on!
15.10.18 - There were a lot of people there already when we arrived at the Newport Bowls Club a few minutes after 12.30 and it it just kept on filling up as the stage came together. The kitchen was struggling to keep up with the demand - Robbo's meal didn't arrive till after our set was over! Somehow amidst all the turmoil of two bands setting up in a confined space we managed to start on time and my old Christchurch compatriot Tony Bishop was pulling a mix out of the steamy ether - and the crowd was loving it! I still managed a few fluffs, but in general the set ran as planned and everyone was happy. I had been worried that my hip (gardening accident) might've inhibited my movement, but the tiny amount of room available on-stage had more of an effect than anything - the adrenalin rush took care of the pain.
Keaton's 'strawberry jam' stole the show (again) between the bands' sets, then it was Madder Lake's turn, with the hard-working Brenden Mason (pics) again featuring just as he had with Spectrum! I don't know where he finds the energy but I'm glad he does because he adds so much to the Spectrum mix! I popped up and joined the Madders for a couple of tunes on harp - and then it was all over, bar the congratulations and back-slapping.
A full-to-the-brim-house made everybody smile. Thanks Rob Rowe! Thanks Steve Georgiou! It was a great day! Roll on the next double bill!
gig report / The Indelibles return to St Andrews to a more restrained welcome 7.10.18

The chaps attempt to encourage the odd dancer with a snappy version of Keep on Dancing
St Andrews does its best
8.10.18 - The St Andrews pub (Sangers to some) never really disappoints and there was so much to recommend The Indelibles' appearance on this occasion that it seems peevish to venture a complain, but it was a quiet day numerically-speaking. That said, the response of the crowd to my typically inscrutable selection of songs couldn't be faulted. In fact, it was verging on whelming. Another plus was that I'd got there early enough to actually have time to kill before we started the first set, so I was scarcely panicked for a change. So, it seems I have to be there a full 90 minutes before start time, rather than an hour. Bugger.
Disappointingly my amp proceeded to broadcast a persistent farting sound, Damn it! I hope I can get it seen to before the Double Bill gig on Sunday!
M I K E R U D D B I L L P U T T . C O MM M I K E R U D D B I L L P U T T . C O MM M I K E R U D D B I L L P U T T . C O MM M I K E R U D D