HOG spells HOG, son!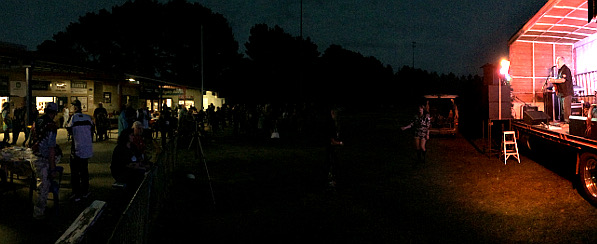 1) DoubleShot of Blues' Johnny Williams with a swag of blues riffs at the HOG Rally in Hepburn Springs


2) Mike's lovely roast meal at the HOG Rally 3) Mike with Wazz Sellers at The Lomond
gig report
Sat. 11.3.17 Spectrum at the annual HOG Rally Hepburn Springs
Sun. 12.3.17 1st BASE at The Lomond + Mike joins The Giants at the Central Club
A weekend of massive contrasts for our Mike
13.3.17 - I was setting out to Daylesford in the van on Saturday arvo with Broc and Robbo on board when I got the call from Mick Newman telling me that the HOG Rally that he'd booked us for was actually being held in Hepburn Springs - a detail really as Daylesford already cosies up with Hepburn Springs and no doubt they'll merge eventually. Johnny Williams' DoubleShot of Blues (pic 1) was sound-checking when we eventually did arrive and they only managed to grind into action after we'd started tucking in to our (free) RSL-style roast dinner. (pic 2)
I finished off my meal with a hot cuppa - which turned out to be far too hot and I lost a layer of skin off my top lip, making my sitting in for a couple of numbers with DoubleShot on harp a quitea pleasure-and-pain experience.
The changeover between bands took far too long on the narrow confines of the back of a truck, and the prediction I'd made earlier on that the audience would melt into the night after I'll Be Gone proved to be only too accurate. Rain was on the way anyway so we gratefully abandoned the truck and fled back to Melbourne.
Spectrum has been unofficially sacked from The Lomond so it was nice to be able to return with 1st BASE to find a pop-up crowd installed and ready to taste the 1st BASE menu. (pic 3) With no time for a rehearsal it was a bit rough around the edges but the crowd was gratifyingly enthusiastic and I think it went OK. I guess we'll wait and see. I've been seated in all the other 1st BASE gigs but I tried standing for the last set and I think I was more comfortable too - I might give that another go.
After my Lomond Burger I mosied on down the the Central Club in Swan St Richmond and made myself known to Stu Woods, The Giants' head honcho, singer, raconteur and all-round good guy, but in the event I had to wait till the end of the set for the prime spot of the night and yet another rendition of The Song. The crowd adored it but Stu revved them up even more and made them sing their verse again and LOUDER this time.
A busy weekend with all the rock & roll bases covered, not just the first.