What the other half are doing..
29.10.04 - While Spectrum races up to the Vine Hotel in Wangaratta and Wahgunyah's Pfeiffer Winery this weekend, there's just a moment to reflect on what the rest of the local music world's up to.
1) Ariel's Harvey James has linked up with some other local luminaries, including: on bass, Roger McLachlan, drummer, Angus Burchall, and lead vocalist, Mick Pealing, to present Mighty Rock, possibly the ultimate Oz tribute band. We can but hope. They're appearing at the Ding Dong Lounge, (level 1 / 18 Market Lane in the city), Wednesday week (the 10th). It's open to the public - better check with Sandy Kaye about door prices on 0418 314 681 if you're interested. Ask Harvey to play I'll Be Gone..
2) After the false alarm of a few weeks ago, I'm pleased to announce that the Official Launch of Gerry Hale's Innocent Bystanders is 8.30 tonight - Friday the 29th - at the Czech Club, 497 Queensberry St, North Melbourne. $15 entry. Ring 0429 384 861 to book or email whatison@gerryhale.com
3) If you were at the Sound Vault Awards you would've heard Ross Wilson talking about this event - ROCK FOR THE ROSES, a fundraiser for Cystic Fibrosis, which was to be held at the Sidney Myer Music Bowl, but which will now be held at the Queensbridge Hotel,1 Queensbridge St Sth Melbourne this Sunday the 31st of October from 11.00am -10.00pm. Featured will be performances by Angry Anderson and Rose Tattoo, Tex Perkins, Don Walker & Charlie Owen, Penny Ikinger, Jerome Smith & Ronimo, Resin Dogs, The Kelly Gang, Bomba, The Screaming Jets, Ross Wilson and the Urban Legends, New Bedlam, Rob Draper, Girl Pilot, Josh Owen and The Knockabouts.That's a helluva lineup!
Call Ticketmaster 7 on 1300 136 166 or check the website: www.rockfortheroses.com.au
Snapshots you may never have seen
It seems to be a trend - we're hardly over choking back the tears from David Porter's exhibition, when Gold FM assembles SNAPSHOT, a collection of Australian music photos of the '60s & '70s (most never seen before) at the recently refurbished Ormond Hall (557 St Kilda Rd Melb - Blind Institute: enter via Moubray St). The show only goes till October 31, so get a move on!
On display (and for sale!) are Beatles 1964 Australian tour photographs, the superstars of Australian rock: Johnny O'Keefe, the Masters Apprentices, the Twilights, the Groop, Russell Morris, the Zoot, the Vibrants, Farnham & many more. International acts from the '50s and '60s include Hendrix, the Stones, Joplin, the Monkees, the Grateful Dead, Buddy Holly, Bill Haley, the Small Faces & more.

You can buy CDs, books and gig posters of the '60s, T-shirts and autographs.
There's still one more live show on this Saturday evening, featuring Marcie Jones and Bobby Bright, which should be a lot of fun. You might have to check the times.
The show's open from Mon. to Fri: noon - 8.00pm; Sat: noon-10.00 pm and Sun:10.00am- 6.00pm. Phone: 9723 0433 for more info or email info@nostalgia.com.au or check the Gold Nostalgia website
Avast there, ye landlubbers!

1) The stairs, the bloody stairs! 2) Part of the sea-faring crowd bog in to a hearty lunch

3) Robbo checks out Broc crossing the Westgate bridge 4) Spectrum up on the RMYS roof

Another big Roctober weekend
25.10.04 - It started with the Nighthawk Blues (formerly the Armadillo) on Saturday night - and that was the critical difference; it was a Saturday night. For some reason we'd never played a Saturday night in its former incarnation, so I was shocked to find the place almost full by 8.00, and by 10.00 the joint was packed to the gills. A bunch of ragers they were too, and it was good to meet the new owner, Bob Thomas, and to find he was a Spectrum fan from way back. (He even got us to sign his copy of Warts Up Your Nose!)
It was a drag to get up the next morning and be confronted with 26 implaccable stairs at the load-in time of 11.00am, but the rest of the (private) gig at the Royal Melbourne Yacht Squadron more than made up for that annoyance. We met some wonderful human beings who made us feel especially welcome to lounge around their slice of prime St Kilda real estate, and insisted that we go out on the Bay with them some stormy Sunday afternoon. Special thanks to Barry Scott, who organised the sheebang and attended to our every need. We'll look forward to that one coming up again on our social calender..
Alan Jones' Nixon tapes
22.10.04 - Sometimes we all need a good laugh. Triple J has compiled some hilarious moments from the (other) doyen of talk-back radio, Alan Jones. Check it out.
http://www.abc.net.au/triplej/hack/jones/ Thanks go to Paul Culnane for the tip.
The Sound Vault Awards

1) Bill takes care of business while the rest of us show off our booty 2) Steve Romig gets a little too frisky

3)Co-Mars Bar award winner, Craig Horne 3) Cyndi boasts 4) Ross Wilson auctions off his kids

5) Robbo with Sound Vault artiste, Jessica Paige 6) A lovely post-honeymoon shot of Mr and Mrs Robbo
Spectrum wins Mars Bar Award at the alternative ARIAs!
18.10.04 - The most coveted award of the Sound Vault Awards was shared by Spectrum and the Hornets. The Mars bar award, for gratuitoustly mentioning Sound Vault to the media, was by far the most desirable award of the day because, in addition to the handsome plaque, we received a packet of the sponsor's product and we can actually eat it (I've started already). The bad news is that Mars has decided not to sponsor the award next year.
The Sound Vault afternoon was decidedly on the quiet side, but I saw more of it than I saw of the predictable ARIAs last night. Sound Vault director Adam Johnstone says that next year's show is going to be nationally televised
As you can see from the group photo, Bill had some good news while the show was still winding down. The man on the other end of the line was none other than Garth Porter, ace country music producer, who's finally had a moment to listen to Bill's song - and he loves it! check it out (All pics by Robbo)

Robbo - not just a pretty face
Robbo the hero
18.10.04 - Speaking of Robbo, (which we do often - see the items below), it seems that the lad is a bit of a hero. He was visiting his parents recently when his mum Margaret started to choke on a vol au vent. While his dad Neil ran round in ever diminishing circles, Robbo calmly walked up behind his mum and executed the Heimlich manoeuvre, which immediately cleared the obstruction.
Every mum should have a son like Robbo. If you're uncertain what to do in such an emergency, check this address. It's a more common sort of incident than you might realise, and you should be ready in case it happens to a family member at home.

Robbo's Narooma scrapbook

1) Bill and Robbo show off Kerri Simpson 2) Mike chats to Shannon Bourne thinking he's Jeff Lang (see story)

3) Mike hauls the merchandise to the Telstra tent 4) Mike hauls most of it back to the van again

5) Robbo's contender for the next album cover 6) Robbo, Ash Grunwald, Shannon Bourne and Captain Inevitable

7) Robbo makes friends with a couple of imported drummers 8) Robbo and Li'l Fi
Narooma revisited
16.10.04 - Robbo has at last relented and sent me some of his Narooma pics. Pics numbers three and four show just how cruel the music biz makes certain un-named people. When there's hard work to be done, Mike suddenly finds that everybody magically disappears, but then somebody sneakily takes photos of Mike grumpily lugging the mechandise to and from the mechandising tent.
Sometimes it can be funny though - especially when somebody else is the victim. The pic (right) shows Bill marching around Xavier wearing a big strip of gaffer that Robbo stuck to his back. Laugh? I nearly bought my own beer!
Jeff Turnbull's little joke
12.10.04 - I might've mentioned that Jeff Turnbull is researching Melbourne music clubs and discos in the '60s and '70s, to which end he popped over and recorded some of Bill's and my recollections. After the interview he insisted on taking a couple of photos of us holding the controversial A Strange Fantastic Dream album, and sent one to me (left) headed, 'Mike & Bill explain.. This album has nothing to do with drugs. Trust us! - we're musicians.'
Now you're over the gales of laughter, perhaps you might feel like getting in touch with Jeff and acquainting him with your recollections of those halcyon days at Berties and Sebastians et al. You'll find Jeff at edgewood47@bigpond.com
Another Hey Gringo review
12.10.04 - Daryl Roberts is a really nice guy, but he has this persistent streak that gets him review after review after bloody review.. Here's yet another review in Rhythms by Al Hensley of Hey Gringo's Funky Car CD - Bill and I actually feature on a couple of tracks. Check out Hey Gringo's website (address on the Links page) for more details.
'As well as laying down some seriously funky grooves, this smokin' R&B combo based in Melbourne and centred around guitaristbassist Paul Gadsby, keyboardist-harmonica player Daryl Roberts and drummer Lee Oldman also specialises in swing, shuffles and latin-derived rhythms. Flanked by Laurie Bongolais and David Williamson alternating sax roles, occasionally Nicky Bomba on congas and backing vocals, Bill Pitt (hah!) on slide and lan Russo's trumpet, lead vocalists Gadsby and Roberts are joined on some tracks by such luminaries as Ross Wilson, Broderick Smith and Mike Rudd. Gadsby and Roberts also share songwriting chores with input from Oldman for his blues number 'What We Got' and the minor-key riff based 'Outta My Tree', seasoned by Smith's wailing harmonica.
Wilson cowrote the country rock-flavoured 'Old Country Road' on which he sings lead and plays harp. He reappears when Hey Gringo poses the question 'What Is It with a Woman?', a blues shuffle where all six featured vocalists - including Smith and ace guitarist-harpist Rudd (woah!!! - a quote for my gravestone!) - take turns singing verses. Smith's pliant reedwork is again heard on the blues-soaked closer 'Tell Me Something'. A crisp and well balanced genuine black-oriented sound surrounds smooth vocal tones and harmonies throughout the hour-long program. Stabbing horn lines and tastefully executed guitar, piano and organ breaks blend a total of 14 catchy original songs together with unerring precision,
More intriguing elements of Funky Car include 'Moonslap' - a six-and-a-halfminute instrumental workout - plus the amiable opener 'Never Let Me Go', a swinging 'Now's the Time' and '12th Bar Blues', the bluesy 'What's Been Goin' On?' and funkified 'Overnite', Roberts' clever, hook-laden title cut, containing more than a faint, modernistic tint of Zappa, exemplifies his wealth of composing talent. Both lyrically and melodically he is equalled by team-mate Gadsby, generally each writing separately. Emitting a Steve Miller meets Steely Dan vibe with a sprinkling of Joe Jackson, Hey Gringo is an excellent band offering much to lovers of jazz-inflected traditional R&B.'

Bill points out to the crowd that they're being photographed in gallery full of photographs
Monash Gallery will never be the same..
11.10.04 - Bill and I and special percussion guest, the alluring Jenny K, wobbled our way to the Monash Gallery of Art yesterday afternoon - wobbling mostly because of the blistering pace of gigging this month. We'd played Ruby's in Belgrave the night before, and I don't think we'll ever get over the Market St Tavern gig on Friday night..(see below) Still, it was a lovely afternoon, and the gallery is beautifully situated amongst the pines atop Wheelers Hill overlooking the Dandenongs. Not only that, but the gallery itself is spacious and modern and wonderfully appointed, so it was a pleasure to be there, all told.
We met up with Melissa Hart, who'd organised the arvo, and set up in the Unreal Rock space, with time over for a coffee and a bite to eat. Melissa introduced us to Emma, whom, I discovered after the event, was supposed to introduce us to the assembled crowd, a point which unfortunately managed to elude me. So I blithely began chatting to the people about the gallery toilets and public toilets in general, ignoring the frantic signals from Bill and Jenny that I was treading on poor Emma.
No matter, the afternoon was a relaxed stroll down memory lane for all concerned and we made the most of the contrast to our usual smelly, sweaty gigs. At the end of the hour Emma got up again and tried valiantly for a post script, but I trod on her all over again. We played Esmeralda to finish up, which was tentatively embellished by the assembled throng, which I thought was pretty brave in daytime and all.
To Market, to Market..

1) Daryl took this shot of the trio revelling in the rustic splendour that is the Market St Tavern

2) Daryl tucks in to the magnificent fare 3) Val about to present us with a diploma 4) Jeff Turnbull

5) Herman Van Loon tucks in 6) Beverley and Michael celebrate Beverley's birthday at the Tavern



7) A buying frenzy saw record sales (!) at the Tavern
The Market St Tavern goes off!
10.10.04 - It was an unforgettable night for so many reasons, and all those reasons were Val Sparnaay. She cajoled, she provoked, she invoked the spirit of Madame Lash, she danced the dance of the seven or so veils - she did it all.
Apart from that, the night was a musical pleasure with the addition of Daryl Roberts on keyboards. Things are taking shape now we've played together a couple of times, but it's still fun to see him frantically flicking through his notes as we launch into another song..
David Porter exhibition on again!
8.10.04 - We've got a very busy schedule this weekend, what with the Market St Tavern tonight and Ruby's tomorrow night, but I always feel for the people who have children who just can't get out at night. The good news is that Bill and I and special guest Jenny K. on percussion are playing a set or two at the Monash Gallery on Sunday afternoon between 3.00 and 5.00 to mark the last phase of the nostalgic David Porter (Jacques L'Affrique) photo exhibition - and you are welcome to bring the kids along. Entry is $5.00 for adults $3.00 concession and children under 16 free. Monash Gallery of Art 170 Jells Rd Wheelers Hill Melway 71 J10 ph. 9562 1569
Greg Quill plugs No Thinking in the Toronto Star
7.10.04 - Is it synchronicity? I think so. The day after I get an inquiry about the Rare Vision Ariel CDs from a Toronto CD retailer, Sam See contacts me with the news that an article has appeared in the Toronto Star, penned by our old mate (maaate!) Greg Quill, mentioning both our fine CD releases. I'll take the opportunity to remind you that Spectrum and Sam and Glyn are appearing with a galaxy of Sound Vault stars at the Sound Vault Awards on the arvo of Sunday 17th. It's going to be a fun function, and absolutely unmissable!
Band in the hot seat
7.10.04 - St Bedes College music maestro, Shane Hayton, sent me this telling shot of his students giving us the once-over at the Xavier lunchtime concert. Shane bussed the lads over especially to catch the performance. The guitarists' collective thought bubble is palpable i.e. 'I can do that' or 'I can do that better!' the more likely option.

Mike accepts the donation on Spectrum's behalf
School makes a donation to Spectrum!
6.10.04 - Yesterday Mike, Bill and Robbo rose too early (bloody 7.30!) and got themselves to St Francis Xavier College in Beaconsfield by 9.55 to set up their gear for a lunchtime concert.
Why so early? As it happens, the boys were on several missions: Mike and Bill were to deliver a talk on the Vietnam era for a history class before the concert and then have another chat to the VET students on songwriting and recording afterwards.
It all went rather well and everybody seemed very pleased to see them, and St Francis Xavier even made a tidy donation (pic) to the charity of Spectrum's choice (i.e. Spectrum).
Rocktober begins with a bang!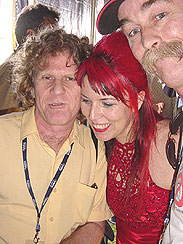 1) Bill with Dave and Sue at the Bees Knees motel 2) Li'l Fi checks out her photo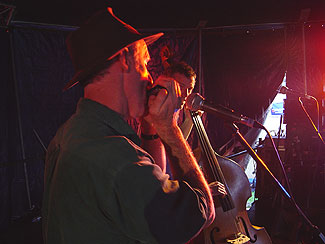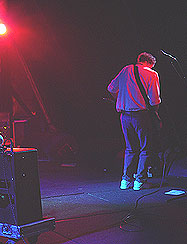 2) Damian Cohen and our old mate Damon Davies 3) Dave Hole digs himself out of one..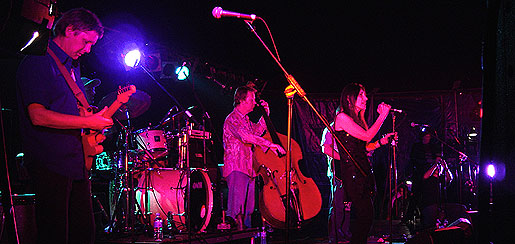 4) The best band at Narooma according to Bill - The Kerri Simpson Band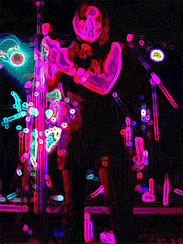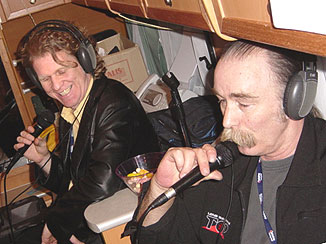 5) Kerri Simpson momentarilty loses focus 6) Robbo and Bill being interviewed on 2EC
They're off!!
6.10.04 - Well, we've done the Narooma Blues Festival now - and it was great fun too. Bill and I decided to leave on Friday, a day earlier than originally planned, and I think the move was justified in retrospect. As it was, the last hour or so into our stop off on the way, Mallacoota, was pretty hairy, driving in heavy rain on treacherous roads in the dark and fog.
By the morning the rain had cleared and we drove to Narooma in pleasantly warm conditions. Our accommodation was at the Bees Knees motel, just a few k's the other side of Narooma, so we checked in there first and met our hosts, David and Sue Beasley. Dave told me he was from Worcestershire, but was born in Staffordshire, (which makes him a Staffy/Woosy cross in my book), and he and Sue run a spotless premises and make a lovely breakfast.
Then it was back to the festival site and finding out the lay of the land. Apparently this is the first year on this site (just over the road from the old site), and they have three tents running concurrently, instead of two as in previous years. They have multiple tents at Port Fairy of course, but not next to each other like here, and not with pretty loud bands playing at the same time either.The noise in the middle of the oval was cacophonous at times, and I was forced to flee and find some peace later in the evening.
Anyway, we'd arrived and we had time to say howdy to some old mates before we were due on stage. I saw this face I recognised but I couldn't remember the name that went with it, so I asked Robbo who it was. He said 'Jeff Lang' and so I went over and had a bit of a conversation with him.
I thought he looked a little perplexed while we were chatting, so I wasn't entirely surprised when Robbo told me that it was actually Shannon Bourne. So I went back to Shannon, (as I now knew him), and apologised for calling him Jeff. He looked even more perplexed and said he hadn't registered that I'd called him Jeff in the first place. (Dirk Dubois said later that I'd executed a backwards faux pas - either a pas faux or a xuaf sap).
Just a few minutes later I had a similar experience, but this time the situation was reversed. I was walking numbly through the happy throng when somebody grabbed me by the arm and said, 'Ross, could you sign something for me?'
I looked around and found this earnest looking moustache with a man attached, standing next to a wheel chair with a rather chubby teenager of indeterminate sex glaring cross-eyed at me.
'I caught your set at Byron,' said the moustache, 'it was great.'
I'd decided to ignore the fact it was an obvious case of mistaken identity and sign the book for the hapless wheel-chair person.
The moustache made a grab for the book, but the wheelie held on to it suspiciously, probably thinking to himself, 'This isn't Ross Wilson, you idiot.'
The moustache eventually wrested the book away and I asked who I was signing it for. 'Dan,' said the moustache, so I duly wrote 'Onyer Dan - Mike Rudd' and to make doubly sure they got the message 'Spectrum.'
'Thanks Ross,' said the moustache as I walked away.
There were other adventures at Narooma, equally as exciting as that one, but I'll relate them to you on another occasion.
back to the top