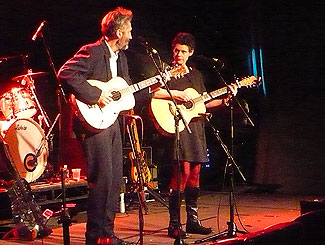 1) Ted Lethborg didn't want his pic taken - again 2) Deb and Willy blame each other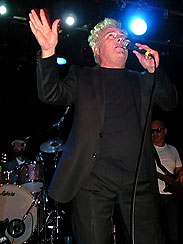 3) Daz with Blackfeather wondering what's with the piano 4) Ross has a direct line to God
gig report
Thurs. 20.6.13 Myeloma benefit at the Hi Fi Bar
Spectrum Plays the Blues at the Masters of Rock concert
22.6.13 - We sound checked for the Myeloma Masters of Rock benefit concert last year (and the year before) so we decided not to this year. In the event we saved several tedious hours of hanging around, but as it turned out we could've arrived even later - the headline act, Ross Wilson and his band arrived as Blackfeather (or should that be Black Lake?) took the stage, which was about the time Spectrum had originally been scheduled to appear.
To be fair, up until the guitar auction the show had been running on time, largely due to the first half of the concert's acoustic guitar contingent. The crevatted James Reyne (and Tracy) had opened up proceedings with a neat acoustic set, despite James suffering from a debilitating chest complaint. James was in the middle of a sound check when Bill and I arrived and we had time for a brief chat - James cheerfully quoted a couple of Ariel riffs on his guitar, (Red Hot Momma and Jamaican Farewell), which I s'pose means he must've been in the audience at some of Ariel's gigs way back when.
James was followed by Ash Naylor, who played a few songs on his twelve-string, including a Masters Apprentices song - the unfortunate Master himself, Jim Keays was still recuperating from a radical stem cell infusion and was unable to attend. (We missed him and wish him a speedy recovery).
Deb Conway and Willy Zygier (pic 2) bravely persisted with a set of songs to which almost nobody paid attention before the time-consuming (but financially rewarding) guitar auction, then Blackfeather stepped up as the first rock ensemble of the night - they were rewarded with a rousing reception and had to be restrained from playing an encore.
Spectrum drifted onto stage and, once Ted Lethborg (pic 1) had mentioned some Quite Interesting Spectrum facts, delivered a laid-back blues set by way of a sampler for the upcoming blues Spectrum Plays the Blues CD - the only exception being the inevitable I'll Be Gone. As I stumbled off stage James Black remarked that I'd done a fair impression of Hound Dog Taylor - I must check him out to see if I should feel insulted.
Ross Wilson and his fellow professionals finally took the stage and proceeded to rock up the audience, who were by now busting for another chance to dance. If Ross (pic 4) was exasperated about the late start he didn't show it and the grooves were hit with consummate efficiency befitting a constantly touring band.
My car park turned into a pumpkin at midnight so we had to leave before the end of the RW and the Peaceniks set. Mind you, we were a bit tired too, but given the drought of Spectrum gigs lately we were also grateful for the chance to play anywhere, let alone for such a good cause and in such good company.