Scroll down to the start of the month
Close this window to
return to Mike Rudd &
Bill Putt's home page
27.5.12 - Paul McHenry tipped me off to the following article in themusic.com.au
Aztec Music Saved By Dainty-Led Consortium
26.5.12- Melbourne label Aztec Music, who were forced in receivership in March, has been bought by a consortium of 'strategic' investors led by Paul Dainty. They assume immediate control of Aztec's assets, particularly the label's catalogue.
Aztec, which was formed in 2004 by Ted Lethborg and former Aztecs drummer Gil Matthews, specialised in importing bulk albums and vinyl for retailers as well as re-releasing classic Australian albums that are otherwise out of print.
Lethborg will head-up the new operation and in a joint statement today said, "To get a second chance to continue the preservation of Australia's rich musical heritage (via the Aztec Music reissue label) is an unexpected and welcome surprise. We are all looking forward to both working towards resurrecting the label and continuing our unique music importing model." read more

1) John Fowler (left) and Paul Murphy talk Sunbury 2) Phil and Bill run through the B version

3) Steve Boyd and David Blight at Paul O'Connor's 50th
gig report
Arts Centre foyer Sunbury forum + Paul O'Connor's 50th b'day party Moonee Ponds Sat. 19.5.12
Nostalgia meets the reality of now..
20.5.12 - Bill and I decided to load-in at Moonee Ponds before trekking down to the Arts Centre for our date with Paul Murphy and the Sunbury forum. As it happened the traffic in town was unaccountably heavy and we didn't arrive till 4.20 and so missed Phil Manning's opening three songs. When we walked in Ian McFarlane was speaking to the just-right crowd assembled in the foyer gallery and John Fowler, (pic 1) whose idea the festival was in the first place, was due to speak next. Bill and Phil mucked around with the B version of I'll Be Gone out the back, (pic 2) which Phil ook in his stride, being the consummate pro that
he is - he'd spent quite some time working out a spiffing guitar accompaniment for the original key, but given that I was recovering from having no voice at all on Wednesday I'd opted for the more congenial key of B. In the event it worked out fine and I think the crowd appreciated the alternate version - let's face it, if that clued-in crowd didn't get it, nobody would.
The (dual) 50th party was held in the Moonee Valley Sporting Club rooms and despite challenges on the acoustical and lighting fronts, a good-natured crowd and an impressive host of guest musos, including Steve Boyd and harpist David Blight (pic 3) ensured that everybody had a great time and the night ended on a massive high. (Yes, massive).

See large pic
Spotlight on Sunbury forum at the Arts Centre
17.5.12 - This'll be interesting. I'm not sure how much I can actually remember about Sunbury - or Sunburys. (Bill and I did them all). Anyway, John Fowler, Phil Manning, Ian McFarlane, Paul Murphy and I will do our best to cast some light on this almost mythical series of festivals that are evoked simply by the name of the region in which they took place. The extra good (late) news is that Bill's going to be there too.
It happens this coming Saturday the 19th at the Arts Centre Foyer Gallery at 4.00 - 5.00 and it's free. See you there.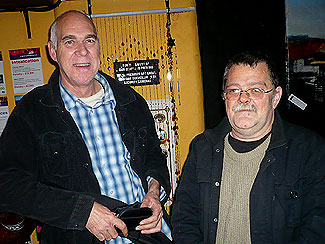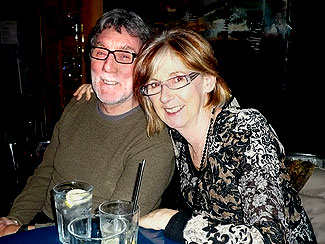 1) Calvin, (left) of Tago Mago and the Music Jungle record shop 2) The Sellers' found Tago Mago - eventually.
gig report
Tago Mago Thornbury Sat. 5.5.12
Tago Mago - a fab new forum for Spectrum
7.5.12 - In case you were wondering, Wikipedia tells us that 'Tago Mago is the name of the third studio album originally released as a double LP in 1971 by the German experimental rock band, Can', from which you might deduce that Tago Mago's proprietor, Calvin, (pic 1) is way into his music. And you'd be right - Calvin also owns Music Jungle, the record shop right next door to Tago Mago. Anyway, it was Calvin who got in touch with me late last year about Spectrum doing a gig at Tago Mago and last Saturday was eventually agreed upon for Spectrum's inaugural TM gig.
First up though, I owe some of you an apology. There was a crucial typo in the address I had up on the site that briefly flummoxed Bill (!) and our friends the Sellers', (pic 2) so it's just possible that you returned home late on Saturday night after a fruitless search at 774 High St Thornbury (rather than the correct 744) cursing my name. Sorry. You missed a great night.
As discussed in March's P&W, a great gig doesn't always feel like it's going to be great until it actually happens. The Tago Mago room itself does look very interesting decoratively speaking - Dr Wazz valued the antique TV on the wall on his iPhone at 600 euros for instance - but on the minus side I'd had only a couple of hours sleep the previous night, there was the confusion with the address, the stage is actually the wrong way round and a bit cramped for room plus it was more practical to use the house system rather than our own familiar PA - but as soon as we started to play we knew there was a TM intangible that made it pretty special.
The audience seemed to be comprised mostly of TM die-hards and blow-ins along with a few of our friends, but their reaction to the music just kept getting warmer as the night went on, which in turn encouraged us to become more, well, enthusiastic ourselves. In short, a fun night was had by all..
When we'd finished playing, the conversations with well-wishers and friends made the load-out especially protracted (and not a little nightmarish for Mike-the-sleep-deprived), so it was just as well I got the finishing time wrong too, (it's 11.30 rather than 12.30), but it was all worth it because I feel that now we may have discovered a northern suburbs venue that we can thoroughly recommend to all our inner-city friends in addition to the Lomond. I'll keep you informed as to the next Spectrum gig there - don't miss it!

1) The Shannon Bourne ultimatum 2) Ray Moon sees the time..

gig report
Clifton Hill Hotel Wed. 2.5.12
Crudd and Putt at the Clifton Hill
3.5.12 - It was a cold, wet night last night in Melbourne. I didn't expect there to be much of a crowd at the Clifton Hill Hotel, but it seems the first act for the night, Michael Waugh, pulled half the staff room to the gig and it was a pretty cheerful-looking bar when I arrived.
Next time we should try and play something a bit more experimental for our own entertainment. It seems futile to trot out the usual fare in the middle of the week. That doesn't really make sense, I know, so there's clearly something I'm not telling you. Maybe when you're older..
back to the top