Scroll down to the start of the month
Close this window to
return to Mike Rudd &
Bill Putt's home page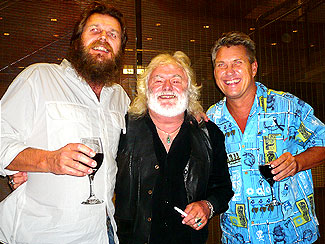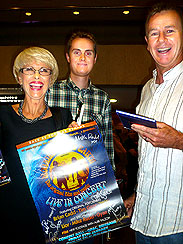 1) Brian poses with a couple of surfing types at QPAC 2) Mike Rudd's signed our poster!
gig report
MOTE QPAC Brisbane Fri. 27.1.12 GCAC Gold Coast sat. 28.1.12
Ain't no sunshine on the Sunshine Coast
30.1.12 - There's been persistent precipitation seemingly for the year so far in southern Queensland and it wasn't letting up just 'cause the Morning of the Earth show was passing through. (I asked our Sikh cab driver if he was sick of the sound of his wiper blades - and of course he didn't understand a word I said). Our first assignment was the QPAC theatre, which turned out to be an unexpected challenge. I'm not sure if this is heresy but I was pretty unimpressed with the design of the stage and the auditorium in what seemed to be a fairly new building. The sound was so dead that it provoked the band and singers into pushing their instruments and voices ever louder just to be heard. Not a rock 'n' roll room. Nevertheless, the show found a generous response from the audience and we got some lovely compliments when we signed posters (pic 2) etc. in the foyer after the show. (Although one bloke helpfully told us we all looked a lot better under lights than in person).
The next night was on the Gold Coast at the Arts Centre and there was some concern that the pre-sales had been slow. Happily there was a late walk-up crowd and the room was chockers when the lights went down. The stage sound was responsive too, in total contrast to the night before, so everybody in the cast was excited. One of the famous surfers from the movie, Rusty Miller, was in the room and came up on stage to add some harp to the Gentle Ben reprise during the encore, which was a lovely touch and we all agreed the show was in general the best so far.
Wollongong and the Opera House this weekend!

* See Gold Coast review

The mayor of Bendigo welcomes some new chums to Oz
gig report
MOTE Newcastle Civic Centre Wed. Spectrum Australia Day
From soggy Newcastle to Bendigo
26.1.12 - The Civic Centre Theatre in Newcastle has been beautifully restored and it was very pleasing to see it full to the brim, especially on a Tuesday night. The show went over predictably well and I indulged in a glass of wine afterwards. This may have contributed to my losing my mobile phone, although I haven't given up on it yet.
We flew back last night and today I joined up with Bill, Robbo and Daz for our fourth (?) consecutive appearance at the Bendigo Australia Day celebrations on the shores of Lake Weeroona. We played it safe repertoire-wise and I hardly forgot anything!
MOTE hits the great outdoors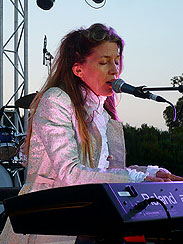 1) Gyan sings and plays the piano 2) Tim Gaze and Gyan accompany the lingering sunset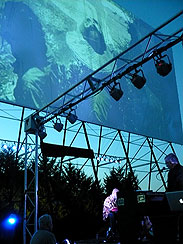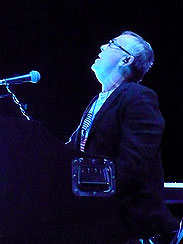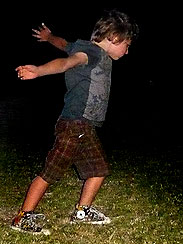 3) The show finally starts 4) MOTE MD Jamie Rigg 5) A fab young dancer entertains the crowd
gig report
MOTE Dromana drive-in Sat. 21.1.12
Morning of the Earth finds its true home
22.1.12 - The original intention was to take this show to all the surfing fraternity's coastal haunts, but this is the third MOTE tour now and there've been surprisingly few takers. We did do Manly and Port Macquarie on the last tour so the Dromana drive-in is only the third. Anyway, I got picked up by Lior at 2.00 and we arrived at the drive-in way too early, so I finished reading my Ray Columbus book during the set up for the sound check. Even at that stage the excitement of playing outdoors and at a drive-in was palpable and when we came back from dinner there was a good crowd in place and the atmosphere was charged.
The super-large screen (pic 3) did the movie no harm and the sound was just perfect, despite an occasionally gusty breeze. The crowd went nuts at all the right places and despite a healthy sprinkling of ancient mariners it certainly wasn't all composed of oldies - Brian got quite excited. Newcastle on Tuesday. We're on a roll now..

1) I didn't get their names but they enjoyed the show 2) Lior signs a program for Benjamin
gig report
MOTE Regent Theatre Fri. 20.1.12
MOTE 2
21.1.12 - Night two of the Regent concerts went even better than night one. Maybe it was a Friday crowd as opposed to a Thursday crowd, but the response seemed warmer and from the artists' perspective the on-stage sound had improved. We signed stuff in the foyer after the show (pics).

Sallie Campbell, Tim Gaze and Gyan run though a song
Morning of the Earth rehearsals
19.1.12 - The cast assembled at the Adelphia rehearsal rooms in Collingwood yesterday for the first of two rehearsals - today we go to the Regent Theatre for a dress rehearsal and then, kaboom! we're on stage doin' it. There were a couple of new chums to welcome; Gyan (pic) is taking over from Ohad (Old Man River) and Sallie Campbell (pic) is a multi-instrumentalist taking at least four places in the band.
On Friday morning, Brian, Tim, Gyan and I will be appearing live on The Circle, which I believe is a popular show on Channel 10, to sing an emasculated version of Simple Ben, one of the show's most loved songs. I hope my brain can cope..

Mark Holden at 774 with Spectrum's Mike and Bill

And so it begins..
11.1.12 - Our first commitment of the year wasn't so onerous, but I'm still feeling a little, well, wasted. The weather had started to turn ugly by the time Bill and I hit the Monash last night for the ABC's Southbank studios where Mark Holden's been hosting the Tony Delroy Show while Tony is on holiday. He's been inviting a few of his friends in to break up the night - in the process providing a real contrast to the usual Nightlife show.
Bill and I chatted to Mark, played a couple of songs and fielded some listeners' calls for the first hour. Then we 'helped' Mark as he played quiz master for The Challenge, finishing off with a free-form version of Lowdown Summer Blues. We finally left at 1.00am - 'twas fun!
back to the top