You want new product..?
13.10.03 Who says we don't do our best for our insatiable listening public? The bloody beaut ABC, in the shape of the ever-patient Paul Petran and company, have recorded some of the very best acts that have graced the stages fetchingly dotted about the Queenscliff foreshore during the best darn little annual music festival we've played at over recent years. And, waddya know, they managed to include a Spectrum track. Hooray! AND they recorded an OK version of Second Coming, which Ross Wilson e-mailed me to say is the best track on the album! (By the way, keep Tuesday night 21 Oct. @ 11.00pm free - ABC-TV Studio 22 features Ross Wilson & The Urban Legends live).
Other acts include Shane Howard (I'm listening to his track as I write), Chris Wilson, the Revelators, the Badloves, the Cruel Sea, Ross Wilson of course, and many more.

The deadline
29.9.03 I'm a man who needs a deadline, otherwise nothing gets done. I don't know if it's a disease specific to musicians necessarily, but I remember Jim Webb mentioning the phenomenon in a chat he gave at the late lamented Continental a couple of years ago. He said he'd do anything not to get started on a project - even the gardening - but Jim 'the perfectionist' Webb had the added problem of never feeling satisfied with anything he'd actually finished either, and was always wanting to fix it up.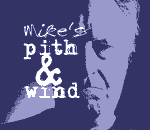 That's not my problem. Or, it
might
be, but I go to some lengths to avoid hearing the noises I've committed in the past, and, given that nobody actually plays anything of mine besides
I'll Be Gone
, that's quite easy.
Even with
a deadline I'll idle along to the very last moment, then in flurry of guilt-ridden panic produce the goods - just. Followers of our recent attempts at recording will be familiar with the procrastination that's dogged the multiplying list of projects I claim to be earnestly beavering away at.
Anyway, today Jenny brought over the fruits of just such a worrisome but spectacularly brief gestation, something I can now proudly claim to be the first product of the aptly monickered Accidental Music Studio .
Well,
product
is a deliberate obfuscation. It's one solitary song - one quite
short
song actually. It seems that even the act of writing a song needs a massive jolt from the rear these days, even though this one had a theme that I felt I could do something with from the beginning.
The theme, given to an assorted bunch of writers by Colin George (brother of singer Linda George, whom I had a bit of a crush on way back when), was Fatherhood. The reason I felt I should be inspired is that I'm over qualified in the father department, having both a father and a step-father. There's got to be a wealth of material there, I reasoned.
Time passed, and I idled along as usual. I'd given Jenny strict instructions to pester me about it, and she was doing as she was told and was beginning to annoy me. To shut her up, I came up with a fragment of music while going somewhere in the van, and had to ring myself and leave a musical note on the answering machine.
It seemed vaguely churchy, and I thought this was probably not a bad route to take. Fatherhood is a serious business after all.
I struggled with it for days, but as worthy as the music seemed, the lyrics simply weren't taking shape. The looming deadline was becoming burdensome, just as Jenny's insistence that I get something
, anything
to Colin, was becoming bloody tiresome.
Then a curious thing happened. A stupid, happy refrain ambushed me when I was idly picking at my trusty Canora. At first I didn't want this upstart to get in the way of my churchy and worthy Fatherhood song.
read more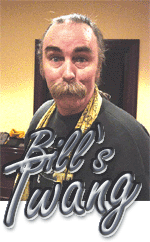 The art of horizontal bass playing..
29.9.03
Hi folks! And welcome to Bill's Twang #3. Well, the month started out kinda normal, with lots of recording and a gig or two, plus our manager Jenny moving house with three daughters and a dog in tow. This is quite a feat - congratulations Klepfi!
Then one sunny afternoon, while lifting something rather light, I did myself a nasty lower back injury, and have been in Horizontal Land ever since! I can now tell you that my ceiling has four lights, seventeen paint cracks, two ventilation grids with thirty-two holes in each, a hundred and eighty six points on the cornices, eleven pin holes, two spider's webs and one squashed mossie.
Viva la boredom!

And then there was the Grand bloody Final.. It's all too painful. I'm going
to crawl under a rock (read 'pillow') and I'm not coming out till the Mighty
Tiges put Richo in the backline.
again.
.
Record companies have made their position clear, initially adopting aggressive measures to attempt to crush what appears to be a growing problem for the music industry as a whole.
Musicians/composers are divided over the issue. Some see the Net a being a useful merchandising device from which the music industry can learn and profit - others see it as a long term threat to the very existence of copyright.
I fall into the first category, but I'm anxious to hear your opinions. Use the
contact us
form to relay your views on this vital subject.
your feedback
Free music downloads - have your say..........
This is one of the issues that we'll be dealing with on a continuing basis. Because I regard it as the most important challenge to the traditional concept of copyright (in my lifetime at least), I keep up with it regularly, and, while there are developments almost daily, the fundamental issue remains the same. Namely; with a generation emerging that regards the free downloading songs off the Internet as a right, and attempts by the RIAA and ARIA to somehow inhibit this activity as tantamount to criminal, and with CD sales dropping by 30% since 2000, how should the music industry be dealing with the problem?
9.10.03
This month's dealer
isn't a CD retailer. Dale Sherlock is the Sherlock behind Sherlock Amplifiers and the guy who services our electronic gear - particularly stage gear like my Fender Deluxe amplifier and Bill's Fender Bassman. Dale specialises in the ancient art of tube technology and also makes his own line of equipment under the Sherlock banner, including guitar amplifiers and the odd effects pedal. I have the Sherlock Tremit pedal in my effects arsenal, which emulates the trademark tremolo that Fender have bafflingly discarded from their current range, and my pedal board was made by Dale and incorporates his 9v power supply. You can find Dale unhandilly located in downtown Templestowe - check out his website at
www.sherlockamps.com
Incidentally, when you go to Dale's site, amongst the occasionally catastrophic spelling you'll find 'before and after' pictures of somebody's amp that Dale has had to reassemble from the shattered remains he was given. That amp is Bill's Carlsbro. Our relationship with the country's airlines has been tested on occasions (e.g. my mandolin), but Qantas really did a number on Bill's Carlsbro when we went to Lindeman Island a year or so back, and when we arrived we opened Bill's rather optimistic cardboard box (or Chinese road case) only to find the amp's cabinet was broken clean in two! Dunno how Qantas managed it, but Dale fixed it! Next time you see us, check it out.
For all the latest goss, check out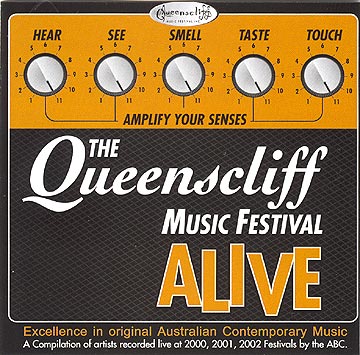 You'll be able to buy this at your local ABC shop, but I'll look into getting some to sell at gigs.
Spectrum tour the Rutherglen wine region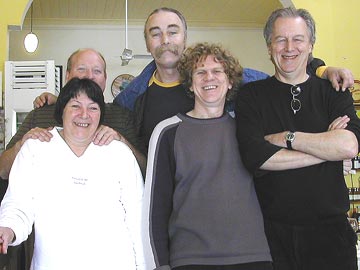 15.10.03
Last Friday, Mike, Bill and Robbo, (Bill still nursing his crook back) clambered into the moon buggy and set sail for Ruthgerglen and Corowa, where they were booked to play Cafe Shamrock and the Corowa RSL. The Shamrock is owned by Broc O'Connor's sister Karen and her partner and chef, Gerard. The night there was hardly short of sensational, with terrific food and wine, a receptive audience and friendly and generous hosts. We're looking forward to the next gig there. The Corowa RSL? An RSL is an RSL..
more late breaking news
Long Way 'Til You Drop Part 3
7.10.03 Tony Barber, author of the best-selling book with the name Long Way 'Til You Drop, will be appearing with Mike, Bill & Robbo at Angus & Robertsons at Knox City on Wednesday the 22nd from 12.30 - 1.30 and he and the boys will be signing copies of the said meisterwerk until their hands drop off.
Only the best..

Mike, Bill and Robbo travel in style when in Rutherglen. Here they pose fetchingly in front of their Rolls at the Woongarra Motel, just a few metres from the gig at the Cafe Shamrock