Dealer of the month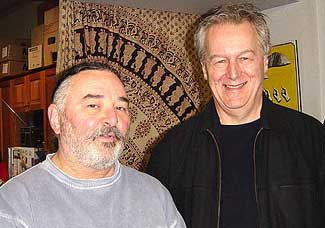 Vale Matt Moffitt
20.8.03 Sydney
Matt Moffitt
of
Matt Finish
has died in his sleep in Sydney. He was 47.
Geoff Marr
, who played bass for Matt Moffitt in a recent line-up of the band told Undercover News Matt died in his sleep on Wednesday night from a suspected seizure.
Matt Finish and Ariel shared the same producer in
Peter Dawkins
, whose son, Paul, played keyboards with Matt Finish just a few years ago.
(At this point I'm beginning to wonder what's going on - the circle is getting smaller almost bloody daily. Aaaaargh!)
read more
Bonus third page of mindless prattle.
Les Miserables Lamington crisis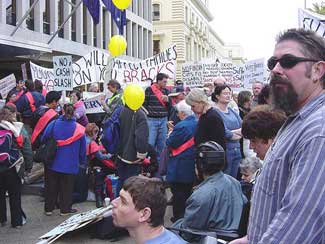 Look out! It's the Feds in-laws..
Okay, it's been a quiet month for Spectrum, but all the more reason to gad about attending slap-up openings - like the new
Federation Lighting
shop at 323 Canterbury Rd in Surrey Hills, coincidentally hosted by Mike's in-laws,
Kath & Geoff McClatchy
and their luscious daughter,
Michelle.
Pop in and see them some time if you're looking for lighting or exquisite antique and reproduction furniture. Tell them you read about them on this website and expect
some
sort of reaction..
back to the top
Close this window to return to Mike Rudd & Bill Putt's home page

More capers @ Capers Cabaret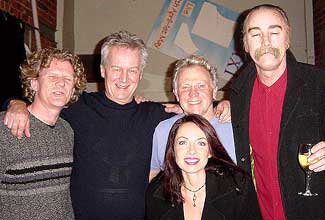 Mike, Bill & Robbo
visit
Normie Rowe
backstage at the Hawthorn home of geriatric rock, Capers Cabaret. Also pictured is Normie's horn section, the alluring Ms
Jenny Foote
. Normie has been touring for nearly two months now and is starting to get the hang of it, he told Mike. Capers was just about the last stop on the tour and was stacked with retirees from all over the eastern suburbs who gave Normie the kind of reverential reception the man deserves.
PS
-
Brecon Walsh tells me he read in Progress Press that Capers is moving to larger premises in Hawthorn around December.
Long Way 'Til You Drop
One of the more interesting aspects of the LWTTT tour was meeting some of the performers that, for one reason or another, we'd managed to miss the first time around. One such character was Tony Barber, rhytthm guitarist with the original Aztecs. He seemed in perpetual awe and delight at what was going on around him - maybe because his tenure with the Aztecs (and Rock biz in general) was comparitively short.
Anyway, not long ago, Tony sent us all an e-mail, informing us he was writing a book about the tour, and requesting photos and anecdotes. I think most of the cast were only too happy to oblige, but there were some notable exceptions, including the Iron Duke himself (Thorpie), who maintains he is the only one truly qualified to write such a book.
Tony rang the other day to tell me the book is now complete and scheduled for release in October. Called 'Long Way 'Til You Drop' I'm betting it will be a great read and I can't wait to get my copy.
So, what next? A movie?
As well as being in Thorpie's original Aztecs ('64 - '65), Tony Barber has beeen a children's TV presenter on the Music Shop and has written over 15 children's books, (like The Puggle Tales), designed soft toys for characters and programs such as Bananas In Pyjamas, Blinkey Bill, Play School, The Music Shop, and of course, The Puggles. Who better to write about a bunch of professional layabouts who refuse to grow up?
back to the top

What's happening.. the spin
Welcome to Issue #2 of the reborn Bloody Newsletter. The few weeks since the site's inception have been amazingly busy and fruitful - which is just as well, because, with the exception of the odd birthday celebrations, the live scene has been quite quiet for Spectrum of late.
As well as coping with the deluge of enquiries generated by the site, Bill and I have been able to address some of the outstanding unmixed recording sessions that have been sitting around for the past twelve months or more. I'm happy to report that the follow up to Spill
(No Thinking)
is finally under way in the luxurious surrounds of the Accidental Music Mixing Suite, based handily right here at home in Camberwell.
Next on the agenda are all those songs featured in the Spectrum live set that we're constantly pestered about, but remain unrecorded. Songs like Bill's beautiful instrumentals
Jenwah
and
Little By Little,
and the revamped WHY songs,
Silicon Valley
and
Sensible Shoes
, just to name a few.
People occasionally mumble at me that there's more to life than recording at home, but if there is, I haven't heard about it..
Site reviews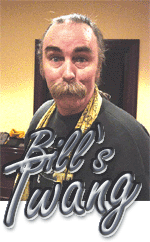 As the Mighty Tiges slide towards the bottom of the League table.
They say that time flies when you're having fun – well, it seems to go into hyper-drive when you start recording and messing around in studios. It feels like only yesterday that I wrote my first Bill's Twang rave, and now it's the end of July! Maybe it's the slowing down as we get older, or maybe it's the medication. Anyhoo, it's been more of the same; recording in my studio till mid-afternoon, and then off to Michael's to continue mixing our last lot of recordings, which lasts until we get interrupted by dinner, TV, tinitis or tiredness. We still have a few more tracks to mix and a couple of bits and pieces to re-record, but we should be finished before you can say "Richmond for Premiers!"
(Go Tiges!)
The other highlights of the month for me have been a great gig at the Armadillo Blues Bar in Mentone and a private surprise birthday party in Camberwell. Michael and I
arrived around 9.00 pm, duly surprising the birthday boy (his 50th), and then took over the lounge room and did a couple of blues tunes, finishing off with the inevitable rendition of I'll Be Gone.
It's quite a nice change to go to a gig with only a couple of nylon-string guitars and harmonicas and play in someone's house. We do a few of these gigs each year and they are always a load of fun, with lots of silly photos and an uncle or someone with a video camera to capture the occasion on film.
So, if you'd like Michael and me to play in your lounge room / kitcen in an acoustic format, please give our manager Jenny a call on 0419 842 312.
Anyway, time for me to go, I can hear the nurse calling. Something about putting my clothes back on. Or was it taking them off..?
back to the top
Free music downloads - have your say
The issue of downloading music off the Net is a vexed one. Record companies have made their position clear, adopting aggressive measures to attempt to crush what appears to be a growing problem for the music industry as a whole.
Musicians are divided over the issue. Some see the Net a being a useful merchandising device - others see it as a long term threat to the very concept of copyright.
Mike Rudd falls into the first category, but is anxious to hear your opinions. Use the
contact us
form to relay your views on this vital subject.
Your feedback
The Mutant looms large in SA
For some reason there's a bump in the graph where sales of Ariel's worthy Jellabad Mutant CD are concerned. Big Star CDs & Records have just taken another hefty shipment of the Mutant, making SA the premier Mutant state. One can only conjecture why this is - is it that a radio station is actually playing the thing? Maybe some Croweater in the know can enlighten this column
Ross Ryan goes too far!
Ross Ryan has gone too far this time. It's bad enough having to put up with him in the appropriate journals i.e. trade papers, veterinary publications, wanted posters etc., but to have one's otherwise peaceful day in the easterrn suburbs of Melbourne shattered with My-Name-Means-Horse's sunburnt visage peering quizzically at me from the front of the suburban press that I haven't worked out how to cancel yet, is altogether too much. I rang him to complain, but he was far too cheerful for my liking, so I agreed that I would publicise his website, as long as he promised not to do it again. So, try Ross' website on www.coathanger.com.au. There, that's done.
Tues. Aug 12
In scenes reminiscent of the Moratorium marches of the '70s (only because those were the last demos I attended), between two and three thousand community and social workers and their clients, plus parents, carers and other interested parties, rolled up to Treasury Place at lunchtime to register their displeasure at a projected thirty five million dollar shortfall over the next three years for social services.
It was suggested that to make up the shortfall, every man woman and child in Victoria would have to buy twenty Lamingtons each annually. If the market is flooded with Lamingtons, their value will plummet, and even more Lamingtons will have to be sold. Lobby your local member to prevent the looming Lamington crisis.

back to the top
Well, he does look kinda sus' - but Ian 'Buddha' Carpenter is our first music dealer of the month. If you live in the Williamstown area, you can't help but know Ian as the proprietor of Off Beat Music, a boutique-style CD, vinyl and poster shop at 153 Nelson Parade, pointed right at the bitterly cold (on this day) northerly wind blowing in from Melbourne city over the Bay. Ian's getting pretty excited about a project he's undertaking with Ian McCausland and Chris Grosz, reproducing some of the very rare posters that surfaced in Oz in the '70s, including some rareties that were never published at all. If you slip Ian a few shekels, he might evendigup some of our product for you..
back to the top