April '15
THE CUTTING EDGE OF SOCIETY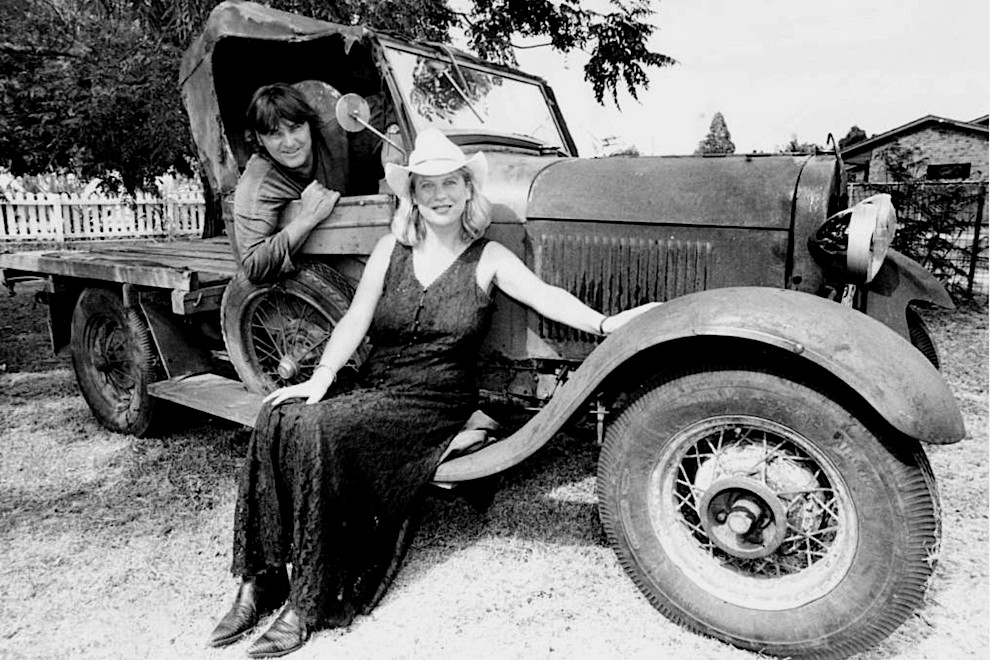 Leslie Avril relaxes on her limo's running board at the 1998
Tamworth Country Music Festival
The Cutting Edge of Society
The Cutting Edge of Society was recorded in 1997 at Ross Ryan's GI Rccorders for Allan Klepfisz's Advantage Australia and then overdubbed, digitally compiled, mixed and remixed at Michael Costa's studio.
Ther music was written by Aussie's Glummer Twins i.e. Mike and Bill, and the prescriptive lyrics written by Mike and his Auckland based brother, Jeremy Templer.
The studio band, dubbed Life As We Know It, comprised of Mike Rudd, vocal and harmonica, Bill Putt, bass and slide guitar, Gerry Hale, mandolin, fiddle and banjo, Bruce Rogers, didgeridoo and clap sticks and on drums, Ariel's Iain McLennan. The very striking back-up vocals were provided by Enza Pantano, Penny Dyer and Nikki Nichols. There was a video made, but that appears now to be lost.
I don't remember which line-up performed the song at the Sydney Opera House and the Midday Show, but The Thin Air Band played at the Tamworth Country Music Festival, of which I can only remember the Cavalcade, the festival opening street parade.
The Northern Leader article of 22.1.98 (see pic) reported our presence at least. (Thanks to Leslie Avril for the copy).
The band comprised Mike and Bill with Gerry Hale again on fiddle, Martin Louis on banjo, James Gillard playing bass and Lawrie Ernst on drums, with Leslie Avril, Jo Jo Leslie & Helen Stuart on back-up vocals.

* See the PR blurb below to get a sense of the project. thanbks again to Leslie Avril for sharing this with us.
Oct. '13 - April '15