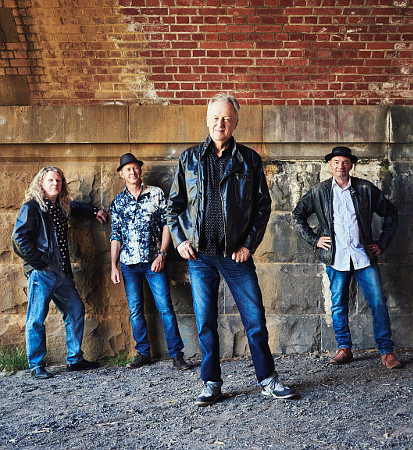 L-R Peter Robertson, Daryl Roberts, Mike Rudd,& Broc O'Connor
Mike Rudd (3rd left) formed Spectrum in 1969 with the late Bill Putt on bass, Lee Neale on keyboards and Mark Kennedy on drums, the same line-up that went into Bill Armstrong's Albert Park studio in 1970 and recorded the famous single I'll Be Gone (Some day I'll have money) .
Due to a local radio ban the single didn't get released for another six months, in which time the band had moved on to a more experimental phase - which may partly explain why Rudd made the questionable decision not to include the single on the band's first album, Spectrum Part One.
Despite this, and sundry other Spinal Tap moments, the band still exists some forty-eight years later, albeit with Rudd the sole remaining original member. See the History page for more.
The Indelibles played their world premiere gig at The Piping Hot Chicken Shop on Saturday night - and launched their new T-shirts as well! (see pic below) Check it all out on the Stop Press page.